Service Idea: Making Valentine's Day Cards
(Posted February 14, 2017)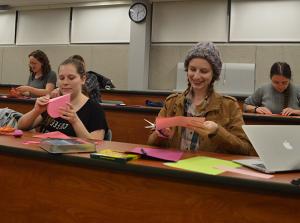 Photo by Anisah Pasquale '18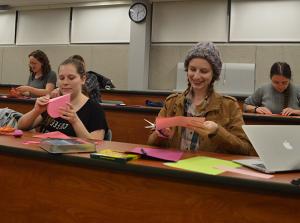 Photo by Anisah Pasquale '18
With Valentine's Day right around the corner, Juniata's Unitarian Universalist Union (UUU) have the less-fortunate on their mind. On Thursday they invited fellow Juniata students to help them make Valentine's Day cards for patients at the Huntingdon Nursing and Rehabilitation Center.
The card-writing campaign was planned by club officers and members. This is the first time such an event has happened on campus. "I think with the success of turnout… we will most likely be doing this again," said Olivia Stentz, a member of the UUU.
"Our club is a spiritual group and is all about respect and trying to make the world a better place and making other people feel good is one of our top priorities," said Stentz. 
Seth Nichols '19, Juniata Online Journalist
Contact John Wall at wallj@juniata.edu or (814) 641-3132 for more information.