Celebrating Women Writers: 'Unlock Your Voice' Set
(Posted April 29, 2013)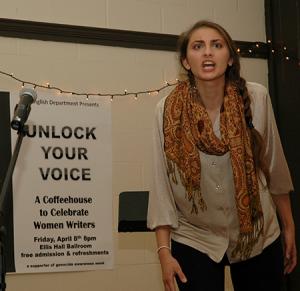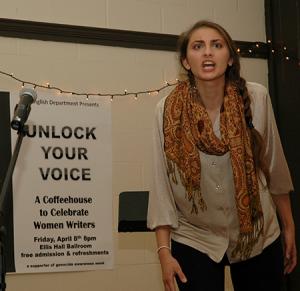 "Unlock Your Voice," which features dramatic readings of women's literature by Juniata College students, will be held at 7:30 p.m., Friday, May 3, in the Ellis Hall Ballroom.

Admission is free and the public is invited to attend. Free coffee and tea and other refreshments will be available.

Since 1994, "Unlock Your Voice" has become a campus tradition, thanks to Judy Katz, associate professor of English, who conceived the event and helps students organize, produce, and perform the celebration of women writers.

The event, which derives its name from a phrase clipped out of a magazine and used on the first flyer, was initially created in 1994 to celebrate Women's History Month. Although the program no longer coincides with Women's History Month, Katz hopes that "Unlock Your Voice" continues to expose the college community to "stories and poetry that people haven't heard of or read before -- and to remind our audience that women have been writing literature at least since the 23rd century B.C. -- even though very little of it (with some very important exceptions) saw print until the 20th Century."

" I love how each new group finds a way to reinvent the event, so that it is a new experience for the audience each year," Katz says. "For example, this year's theme is 'Speak Up, Speak Out, Speak Easy" -- so instead of a coffeehouse, we're going to try our best to look and feel like a speakeasy -- though without the alcohol!"


This year, nearly 20 readers will be presenting a wide variety of authors, including Margaret Atwood, Andrea Gibson, Margaret Walker, and Sor Juana Inez de la Cruz.

One of the readers, senior Meg Illig, of Homer City, Pa., has been a participant in "Unlock Your Voice" since her freshman year. "Working with the 'Unlock Your Voice' and 'Lift Every Voice' programs has been one of the most rewarding experiences of my college career," Illig says. "I love being a part of the creative process behind an event that is so important to the college community."

"I'm excited to participate in my first event," says Jocelynn Jackson, a freshman from Philadelphia, Pa. "I would like to learn about different women writers from all over the world, and I look forward to hearing everyone read."

Katz, who is scheduled to retire next year, will hand over supervision of the program in the fall. When asked what she will miss most about the event, Katz replies, "seeing the development of the program, from the rough beginnings to the polished production, from knowing where it all began and then seeing how it all comes together."


Readers for the event are as follows: Hailey Aguero, a freshman from Newington, Conn.; Rebecca Babe, a senior from Tyrone, Pa.; Sharon Dubosky, a junior from
Spring Mills, Pa.; Guillermo Garcia , a senior from Aspers, Pa.; Miguel Hernandez Montero, an international student from Veracruz, Mexico; Briahnna Hoover, a senior from Huntingdon, Pa.; Megan Illig, a senior from Homer City, Pa.; Jessica Kaplan-Bie, a junior from Lexington, Mass.; Laura Kelly, a sophomore from Gibsonia, Pa.; Corey Lacey, a junior from Baltimore, Md.; Jocelynn Jackson, a freshman from Philadelphia, Pa.; Ben Mahan, a senior from Havertown, Pa.; Alyssa Newberg, a freshman from Derwood, Md.; Alyssa Peachey, a sophomore from Hummelstown, Pa.; and Chelsea Wilson, a senior from Baltimore, Md.


In addition, three Juniata alumnae will also read: Katie Cibort, a 2009 graduate of Harrisburg, Pa.; Alcione Frederick, a 2004 graduate of Huntingdon, Pa.; and Becci Noblit Goodall, a 2001 graduate of Naples, Fla.

Written by Chelsea Wilson and Judy Katz

Contact John Wall at wallj@juniata.edu or (814) 641-3132 for more information.