Juniata Theatre Students Stage 'A Christmas Carol' Reading
(Posted December 2, 2013)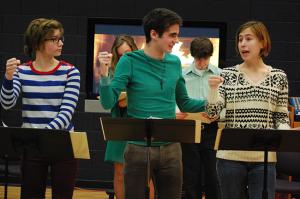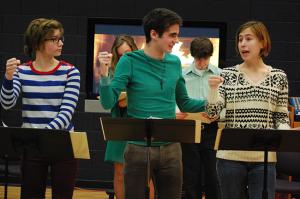 HUNTINGDON, Pa. -- Tiny Tim, Bob Cratchit and the feared Ebenezer Scrooge will be embodied by talented Juniata College theatre students during a staged reading of "A Christmas Carol" at 7:30 p.m., Monday, Dec. 9 in the performing arts movement studio in the Halbritter Center for the Performing Arts on the Juniata campus.

Admission is free, but donations are encouraged and all proceeds will be directed to benefit the J.C. Blair Memorial Hospital Foundation.
"It's a straightforward, family-friendly adaptation," says Neal Utterback, assistant professor of theatre at Juniata. "It reduces the story down to a manageable length, about 90 minutes."

"A Christmas Carol: The Reading" will be performed in the downstairs Performing Arts Movement Studio. Directed by Utterback, the production features roles for 17 Juniata theatre majors. Some of the actors will play dual roles. The adaptation is by Mary Hausch, the former artistic director of the Hippodrome Theatre, in Gainesville, Fla.

"A Christmas Carol" is one of Dickens' most enduring stories. The central story focuses on Ebenezer Scrooge, who says "humbug" to the holidays. But as he sees the humanity of the Cratchit family, and aided by timely visits from several ghosts, the crotchety old man becomes a believer in the Christmas spirit.

The Juniata theatre students participating in the reading are: Emily Brownholtz, a freshman from Andover, Mass.; Lauren Hitzhusen, a senior from Houston, Texas; Jacob Sinclair, a sophomore from Mount Airy, Md.; Wendy Briggs, a sophomore from Springfield, Va.; Gary Shoemaker, a senior from Summerdale, Pa.; Sarah Bennett, a senior from Warminster, Pa.; Bry Kifolo, a senior from State College, Pa.; Alex Hanbury, a sophomore from Newington, Conn.; Patrick Rutledge, a freshman from Dubois, Pa.; Lara Shaffer, a senior from Goshen, N.Y.; Julia Mathis, a sophomore from Collegeville, Pa.; Andrew Kilpatrick, a junior from Johnstown, Pa.; Libby Casey, a senior from Lancaster, Pa.; Holly Souchak, a sophomore from Scarsdale, N.Y.; Allie McCauley, a junior from Montgomery, Pa.; Lauren Dobbs, a sophomore from Hillsborough, N.C.; and Toby Krebs, a senior international student from Gelsenkirchen, Germany.

Contact John Wall at wallj@juniata.edu or (814) 641-3132 for more information.