Celtic Songs Are Featured at Choral Union Concertll
(Posted April 22, 2014)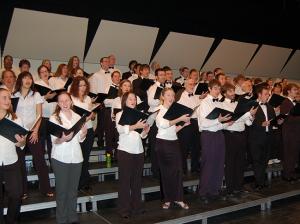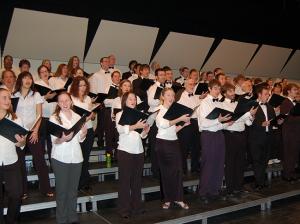 HUNTINGDON, Pa. -- Juniata College's Choral Union will introduce its audience to different cultures with a number of folk songs in its annual spring concert at 7:30 p.m., Tuesday, April 29, in Rosenberger Auditorium on the Juniata campus.

The concert is free and open to the public. The Juniata College Choral Union is directed by Russell Shelley, Elma Stine Heckler Professor of Music.

"The spirit of the Choral Union is one of mutual respect and support," says Shelley. "Our unique membership includes faculty, staff, students, and area residents, from first-time singers to individuals who have sung with the Pittsburgh Symphony Orchestra."

The concert will open with a version of "The Ash Grove," a traditional Welsh folk song, arranged by Jeremy Rawson. Russell Robinson's arrangement of "Gloria," a selection from Joseph Haydn's 10th mass, "Missa in tempore belli," or "Mass in Time of War," will follow the opening piece.

A number of other folk songs will be performed, including "Shule Aroon," a traditional Irish folk song arranged by Ruth Elaine Schram; "Dúlamán," another Irish folk ballad arranged by Rollo Fisher; and "Ye Banks and Braes," a traditional Scottish air, arranged by Jeremy Rawson. All of the folk songs performed are newly composed, using traditional melodies.


"Erev Shel Shoshanim" is a poetic Hebrew love song by Josef Hadar and arranged by Jack Klebanow. The concert will also feature "Tshotsoloza," a South African freedom song adapted by Jeffery L. Ames.

The Choral Union is the largest choral ensemble at Juniata with a student membership of more than 90 and more than 50 members from communities in the Huntingdon area. The Juniata Choral Union traditionally performs larger choral works.

By John Dubensky

Contact John Wall at wallj@juniata.edu or (814) 641-3132 for more information.