Buddhism Comes to Juniata College
(Posted September 30, 2013)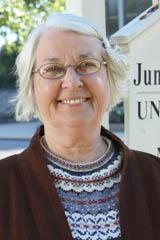 Perhaps unbeknownst to Juniata College students, a Buddhist minister has been added to the number of student resources here on campus. Carole Baker is a Buddhist minister who will be reaching out to students by offering meditation services and Buddhist literature. Baker discusses her role here at Juniata and her plans for the future.

Q: For how long have you been a Buddhist minister?

A: In 2008, I graduated from chaplaincy training given by the New York Zen Center for Contemplative Care at Village Zendo. My ordination as a laywoman in Thich Nhat Hanh's Order of Interbeing qualifies me to conduct weddings, funerals and other ceremonies. Since 2010, I have led a meditation group at Unity House as a volunteer. Beginning this year, I was invited to join the Unity House staff and I am called a volunteer Buddhist minister.

Q: Where did you learn about Buddhism?

A: In 1997, a friend gave me a copy of "Peace is Every Step" by Thich Nhat Hanh. It made so much sense to me that I went straight to Plum Village in France to learn more from him.

Q: What about Buddhism appealed so much to you?

A: At that retreat in 1997, I felt perfectly comfortable accepting The Five Wonderful Precepts (now known in my tradition as Mindfulness Trainings) as taught by the Buddha. These are: avoid killing, avoid stealing, avoid sexual misconduct, speak truthfully and kindly, and avoid intoxicants of all kinds. The Precepts are not viewed as commandments, but as guidelines for living a happy, honorable life. I could give you the short answer about karma and reincarnation, but really the aspect that appealed to me was that I alone am responsible for my own transformation. Nobody has to die an excruciating death for me to reach the state of Nirvana where I no longer suffer, a state of accepting things as they really are, without judgments or differentiations.

Q: What will be your role at Juniata College?

A: Similar to the role of any minister in an institutional setting, I expect to teach the basics of mindfulness, lead a meditation group (hold services); counsel students as needed; and participate in Juniata events as appropriate. I would like to emphasize here that Buddhism is not evangelical. It is not part of my role to convert anyone to the practice of Buddhism.

Q: Have you experienced much interest in Buddhism from the students here?

A: Yes, indeed. The college years are a time in life of exploring options, including spiritual ones.

Q: When and how will students have access to you?

A: I live 40 miles from Huntingdon, so I am not on campus on a daily basis. The Unity House meditation group meets at 5:00 pm every Monday and I am happy to arrange individual conferences at other times. I can be reached at any time at (814) 259-0161 and at interbe@innernet.net. Once a week, a campus-wide email notice about the meditation group's meetings and activities will include my telephone number.

-Zach Lemon '14, Juniata College Online Journalist
Our readers respond...
This is fantastic! An advisor is visiting my children's school, Friends Meeting School, soon. I'm thrilled to know there is a campus open to teaching meditation, mindfulness and reaching out to support student's through Buddhism. I practice at White Plum Zen Community in MD. My Zen inspired children's book is being published in 2014. Thank you.

Gina
New Market, MD
Click here to provide a response of your own.
Contact John Wall at wallj@juniata.edu or (814) 641-3132 for more information.