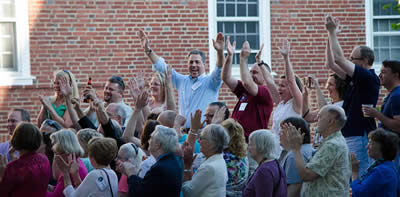 Once again, class reunion volunteers and the alumni office are busy preparing for a fun-filled, family-friendly Alumni Weekend. Join us June 2-5 for Alumni Weekend 2016.
This year the Class of 1966 will celebrate its 50th reunion. Special reunions will be held for class years ending in 1 and 6, with the exception of the 5, 10 and 15-year reunions scheduled for Homecoming and Family Weekend.
A variety of on-campus and local lodging options are available. Stay in a residence hall or make plans to spend the night in the Huntingdon area.
Online registration will be available mid-March.
If your reunion is coming up and you would like to work with your reunion committee, please contact Dawn Scialabba by e-mail or call the Alumni Office toll-free at 877-JUNIATA (586-4282).
This past June, more than 550 people enjoyed good food, friends, and fellowship at reunion weekend on College Hill. To read highlights and view photos of the celebration, visit Alumni Weekend 2015.