Judith Maloney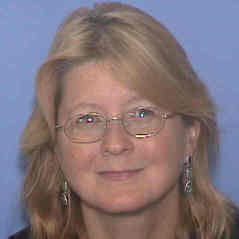 Director of Juniata College Museum of Art
Lecturer in Art
Office Location: Carnegie 103
Phone Number: (814)641- 2691
Personal Website: http://faculty.juniata.edu/maloney/
Judy Maloney began her teaching career at Juniata College in 1992 as a sabbatical replacement for Art Historian Dr. Karen Rosell. In the fall of 1999, she returned to the college as adjunct instructor, and now holds a multi-disciplinary position in Art History, the College Writing Seminar, and the Juniata College Museum of Art.

After earning an undergraduate degree in English, the Writing Option, from Pennsylvania State University, Judy worked as insurance benefits approver, secretary, and newspaper reporter, on the way to earning her first master's degree in Fiction Writing from Penn State. Her master's thesis was a collection of short stories, White Sands.

A year spent living in Bulgaria and travel elsewhere in Europe created a great appetite to know more about art; consequently, Judy acquired a second master's degree, this one in Art History, at Tulane University in New Orleans. There she focused her research in Modern Art, and wrote her thesis on "Sensation and Appearance: An Interpretation of Francis Bacon's Realism."

Between that degree and coming to Juniata, Judy taught as an adjunct instructor at Penn State and worked as a counselor for Centre House, a homeless shelter in State College. She considers what she learned there from the people she worked with an essential education about human needs, which she tries to bring to her teaching of art and writing.

Judy has published short stories, essays, and articles, including "The Makers of Place," in Research Penn State, September 1991; "The Gentle Society," in the Palo Alto Review, Spring 1997; "A Perfect Right to Love," in The Sun, November 1993. She is an active member of the College Art Association and the American Association of Museums.

Judy lives in State College with her husband, S. Leonard Rubinstein, and daughter, Bessie. Each summer when she is not in the classroom, she spends her time writing fiction.