William Thomas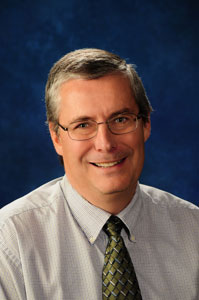 Professor of Information Technology
Office Location: Brumbaugh Academic Center C205B
Phone Number: (814)641- 3621
Personal Website: http://faculty.juniata.edu/thomas
Professor Thomas earned a bachelor's degree in computer science from Lock Haven University in 1983 and went on to earn a master's degree in computer science from Shippensburg University in 1990.

He joins the Juniata faculty after working as an assistant professor of computer science at Mount Aloysius College in Cresson, Pa. from 1996 to 2001. He was promoted to associate professor at Mount Aloysius in 1999. He worked as an adjunct faculty member in computer science at Wilson College in Chambersburg, Pa. from 1995 to 1996.

Professor Thomas entered the Academic environment after 13 years in the field of information technology. From 1989 to 1996, Thomas worked as senior analyst for Hoffman Mills in Shippensburg, Pa., where he was responsible for network design, administration, support and maintenance. Additionally, he had database administration and system analyst responsibilities. He started his business career as a programmer/analyst at AMP INC. in Harrisburg, Pa. from 1984 to 1989. While at AMP he was project leader on several major software projects.

He holds various professional certifications Novell CNE; Classic, IntraNetware, 5.0, and 6.0. Additionally he is CompTIA Net+ Certified.

In the community Professor Thomas is Board Member and Vice President of the Glendale Area Medical Association. Additionally he was crucial in efforts to develop a cooperative agreement between Prince Gallitzin State Park and Glendale Soccer Association, to allow the association to develop soccer fields on State property.

Bill and his wife Tilda have four children, Colt, Carly, Tyler and Tessa. Three of his children, Colt, Carly and Tyler are graduates of Juniata College. Tessa is currently attending Juniata College.