Xinli Wang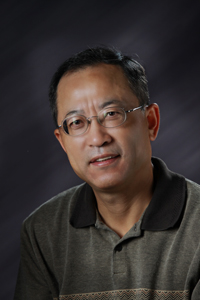 Professor of Philosophy
Office Location: Good Hall 414
Phone Number: (814)641- 3642
Personal Website: http://faculty.juniata.edu/wang
Dr. Wang received his B.S. in Geophysics from the Changchun Institute of Geology, China. He received his M.A. in Philosophy from the Hauzhong University of Science and Technology, China and completed his Ph.D. in Philosophy at the University of Connecticut, storrs.

Throughout his studies Dr. Wang received several 'Excellence in Teaching Awards.' He was named 'Outstanding Graduate Student' and received the 'Excellent MA Thesis Award,' as well as a graduate teaching assistantship, dissertation fellowship, and lectureship. Dr. Wang was the winner of the 2002 CTNS (the Center for Theology and the Natural Science) Science & Religion Course Competition, $10,000 award to the course God, Evolution and Culture (co-designed with Professors Randy Bennett and Doug Glazier).

Prior to his appointment at Juniata, Dr. Wang was a visiting lecturer with the Department of Philosophy at Trinity College (Hartford, Connecticut). He has also served as a lecturer and teaching assistant with the Department of Philosophy at the University of Connecticut at Storrs and was an assistant professor at the Hauzhong University, China. Dr. Wang was also an instructor with the Department of Applied Geophysics at Xian College of Geology, China.

Dr. Wang has been a productive scholar and has published many philosophy papers in several peer reviewed philosophy journals, such as The Studies in the History of Philosophy of Science (2003), Dialogue: Canadian Philosophical Review (2002), Di�¡logos (2003, 2001, 1999), Prima Philosophia (1998, 2001), Journal of Dialectics of Nature (1989), and Developments in Philosophy of China (1988). He has also done various translations from English to Chinese. Dr. Wang has one book under contract for publication. He has presented his works in many national and international philosophy conferences, including several annual meetings of the American Philosophical Association, 10th International Congress of Logic, Methodology, and Philosophy of Science (Italy), the International
Conference Incommensurability and the Related Issues (Germany), and 21st World Congress of Philosophy (Turkey). Dr. Wang is an invited referee and member of the editorial board of Dao: AJournal of Comparative Philosophy. He has also been invited to speak at several universities and colleges.

Dr. Wang is a member of the American Philosophical Association, The Philosophy of Science Association, British Society for the Philosophy of Science, and Association of Chinese Philosophers in America.

Dr. Wang, his wife Ling Xu, and daughter Jenny have enjoyed living in Huntingdon since the summer of 1999.