James White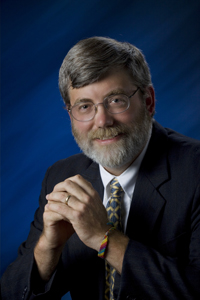 William I & Zella B Book Professor of Physics
Office Location: Brumbaugh Academic Center P221
Phone Number: (814)641- 3545
Personal Website: http://faculty.juniata.edu/white/
Dr. Jamie White is the William I. and Zella Book Professor of Physics at Juniata College where he teaches physics and advises students with Programs of Emphasis in Physics, Physics Education, and Engineering Physics. After graduating from Carleton College in 1985, he taught physics and AP Physics at The Haverford School until entering graduate school in 1989. He earned his M.Ed. in 1993 and his Ph.D. in Physics in 1994 from the Pennsylvania State University. He has served as an Assistant Professor of Physics and Education at Baldwin-Wallace College and an Assistant Professor of Physics at the College of Potsdam, SUNY. He came to Juniata in 1998.

Dr. White has taught courses in general physics, musical acoustics, electronics, mechanics, optics, modern physics and methods of teaching secondary science. He has also developed and taught introductory and advanced laboratory courses and supervised student teachers. In addition to teaching, he has published in Optical Letters, the Journal of Chemical Physics, Surface Science, American Journal of Physics, The Physics Teacher, and Journal of the Acoustics Society of America, among others.

During his sabbatical of 2004-05, Dr. White served as Visiting Senior Researcher at the Quantum Optics Laboratory of the University of Melbourne. He has continued his work at Juniata College in the development of a new mechanism for laser light production by efficient up-conversion in rubidium vapor.

In addition to his work with students in the physics department at Juniata College, he also serves as the Associate Director of the Pennsylvania Science Olympiad Competition and as the President of the Huntingdon County Habitat for Humanity.

He is married to Laura White, and has two daughters, Sara May and Joanna.