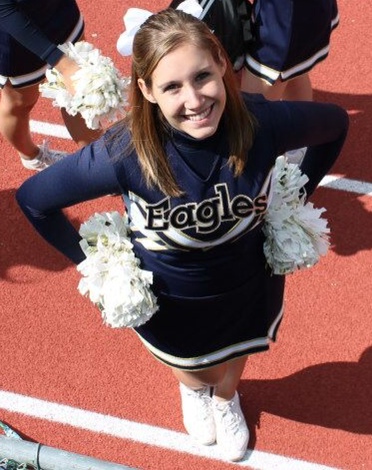 Kaitlyn Lewis
Program of Emphasis: Educational Studies and Human Behavior
Hometown: Manheim, PA
High School: Manheim Central High School
Why I chose to attend Juniata: I chose Juniata College because it has a great environment and you have the opportunity to create your own POE. I have a family here at Juniata and I don't know what I would do without them.
Clubs and Organizations: On the Executive Board of The National Society of Leadership and Success. I am going to be joining COMPASS in the Spring.
Varsity Sports: Juniata College Cheerleading
Most Interesting Class: The most interesting class that I have taken this year is Adolescence. It is interesting to me because at first I was just taking it as a credit class, but through this class I have realized that I want to work with children and have changed my major to Educational Studies and Human Behavior.
Favorite Faculty Member: Professor Sarah DeHaas has made a pretty big difference in my life. She is my Professor for Adolescence and through her teaching I have discovered that working with children is the correct career path for me. She also is my POE Adviser and always has positive things to say and never has any doubts in what I will accomplish in the future.
Thank you!

Thank you very much for choosing me to receive this scholarship. It means so much to me. My family is self-employed and without this financial support, paying for college would be a constant struggle. Receiving this scholarship has taken such a heavy load off my parents and me. Once again, thank you very much.
Kaitlyn Lewis
Class of 2016