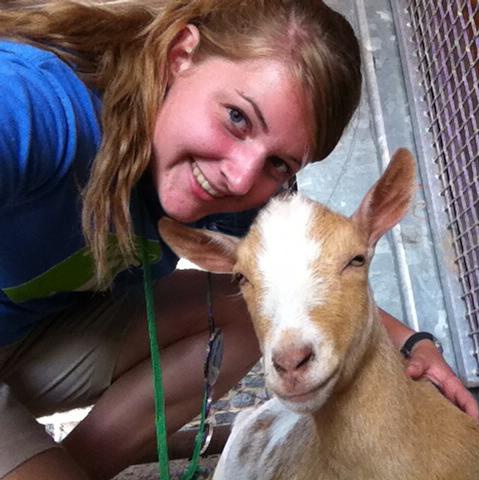 Chelsea Moser
Program of Emphasis: Wildlife Conservation
Hometown: West Lawn, PA
High School: Wilson High School
Why I chose to attend Juniata: I chose Juniata as my college of choice because of all the opportunities that it offered for its students. I also loved the fact that the school is very small. With a small school like Juniata, a student is not just another student, they are an individual that matters, an individual that is encouraged to grow, learn and inspire. And it is always a plus when every faculty member and student is extremely friendly. At Juniata, it is not uncommon to have a casual conversation with your professor or for them to know you by your first name. That's why Juniata is simply the best.
Clubs and Organizations: JC Paws-I help at or work some of the events on campus
Varsity Sports: Track and Field-Thrower (Javelin and Hammer)
Internship: Environmental Education and Animal Behavior at the Philadelphia Zoo-interpreted "exploration Stations", interacted with guests, interpreted daily activities and held daily talks, encouraged guests to participate and learn, observed animals, created and collected data on animal in the zoo and presented that data to the public in a formal presentation, interpreted biofacts to guests, answered any questions from guests.
Most Interesting Class: The most interesting class I've taken this year would have to be Field and Stream because it is a field methods class. We are looking at hemlock trees and how they are affected by a parasitic insect that is killing them, and over how the dying hemlocks are effecting the ecosystem and stream system around them. In this class we are learning a lot of field skills which are really fun and useful and we go out in the field every class.
Favorite Faculty Member: A faculty member that has made a difference in my life is Sharon Yohn because I chose her as my second advisor. She told me she didn't know a whole lot about what was required for a wildlife conservation major when we were planning on meeting for scheduling for classes. But when I actually went in to meet with her, she had researched everything about the major and printed out papers for me to follow along with to make sure I stay on track when scheduling courses for the rest of my time here at Juniata. She was so helpful, I couldn't have asked for anything more.
Honors Received: I have been inducted into the National Society of Leadership and Success
Thank you!

Words cannot describe how grateful I am to be blessed with this scholarship. It truly means the world to me. Without this scholarship, I probably would not be attending Juniata. This financial support means more to me this year than it ever has before because my family has been going through some hardships lately. Two weeks before school began this year; my father was diagnosed with cancer. He has been through a hefty surgery and has been in and out of the hospital; I am proud to say he is a cancer survivor and on the recovery road. Financially the medical bills will be rolling in for my family, so receiving this scholarship is a huge help for my family and I in so many ways. So thank you for everything, I can guarantee it was money well spent!

Sincerely,
Chelsea Moser
Class of 2016