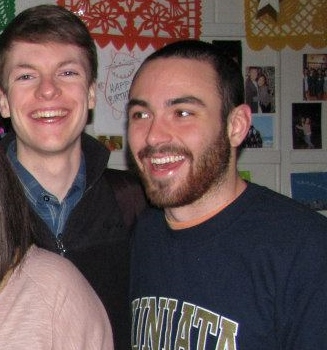 Aaron Womer
Program of Emphasis: Biology
Hometown: Shermans Dale, PA
High School: West Perry High School
Why I chose to attend Juniata: The community at Juniata is tight-knit and very friendly. That means that the students form lasting friendships with a lot of people, including faculty, which support us and help us experience new things.
Clubs and Organizations: Secretary for BBB Biological Honor Society, HOSA member, River Rats rugby club member.
Internship: I had a 240-hour physician shadowing internship at Spring Road Family Practice in 2011.
Research Participation: I participated in a summer biology research internship with Dr. Keeney at Juniata in 2012, and still work on that project currently. I had an independent research experience in the summer of 2013 with the Dedon Lab in the Biological Engineering Department at MIT.
Most Interesting Class: The most interesting class I have this year is Biochemistry and Molecular Biology III. The class size is four students, so most classes include involved discussions about the material. We also have many more opportunities to discuss subjects that interest us and work on our presentation skills because of the small class size.
Favorite Faculty Member: Dr. Keeney has made a huge difference by taking me under her wing as a research student. Dr. Keeney taught me how to think critically about biology research and experimental design. Her mentoring has helped me to get a summer internship in a lab at MIT this summer.
Honors Received: BBB Biological honor society, Dean's list every semester.
Thank you!

Thank you so much for helping me pay for my classes at Juniata. College tuition puts a lot of financial stress on my family, so your support goes a long way. Juniata has allowed me to prepare well for graduate school and professional life, so thank you so much for helping to fund my education at Juniata.

Sincerely,
Aaron Womer
Class of 2014