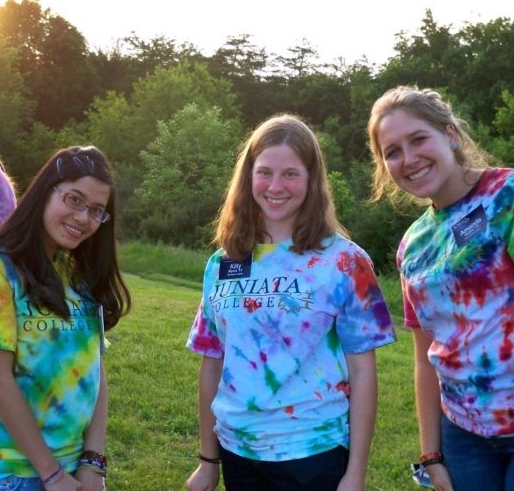 Catherine Myers
Program of Emphasis: Studio Art
Hometown: Shirleysburg, PA
High School: Mount Union Area Senior HS
Why I chose to attend Juniata: I have called Huntingdon County home since childhood, so coming to Juniata was a natural fit. Juniata's reputation and welcoming atmosphere also made this choice an easy one to make.
Clubs and Organizations: Juniata College Cycling Association (formerly Bike JC) - active member since 2011 Habitat for Humanity - active member this year Mud Junkies - current Treasurer, I have led two meetings that focused on making slab cups and glazing the bisqued piece. I also travel to NCECA and participate in the planning of Empty Bowls.
Internship: During the summer of 2013 I worked as a Pottery/Ceramics Activity Counselor at Grier Summer in Tyrone, PA. I planned a three-week curriculum for the ceramics activity program and taught the curriculum to two groups of campers.
Most Interesting Class: The most interesting class I have taken this year has been my capstone course in clay. Having the opportunity to explore why I work in clay has been very self-fulfilling. I have been using this time to learn about the way I express myself through my art and how I want my audience to perceive the pieces I make. This course has also allowed me to grow my technical skills and general knowledge base about the ceramics community.
Favorite Faculty Member: Professor Bethany Benson has been a wonderful mentor. She has invested time in my professional aspirations and pushes me to succeed. Abbey Baird, Director of Community Service and Service-Learning, has also changed my life. Because of working in her office I have become more aware of the difference service has made in my life and hope to continue my service efforts.
Honors Received: Juniata College Bonner Leader Program - Spring 2011 Cohort
Thank you!

Thank you greatly for providing this scholarship for students at Juniata College! These scholarships provide more than financial support. Knowing that someone like you believes in my ability to succeed gives me more motivation to do well and be an active member of the Juniata community.

Thank you again,
Catherine Myers
Class of 2014