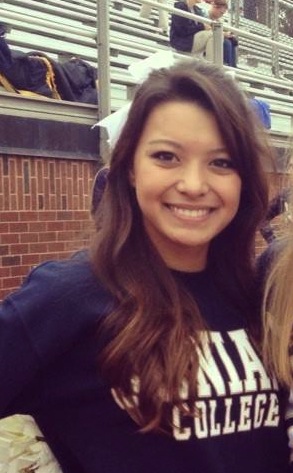 Taylor Stefanik
Program of Emphasis: Biochemistry, Genomics Certificate
Hometown: South Fork, PA
High School: Forest Hills High School
Why I chose to attend Juniata: There is not one specific reason that I chose to attend Juniata. I could name all the statistics and mention the attention to research, but as soon as I stepped foot on this campus, I just knew. That's really all there is to it.
Clubs and Organizations: ASBMB, Chemistry Club
Varsity Sports: Cheerleading: Flyer
Internship: My summer research counted as an internship.
Research Participation: Identification of Genes Responsible for a Profound Behavioral Phenotype in a Nicastrin Conditional Knockout Mouse: We created a conditional knockout mouse in order to achieve a phenotype similar to that of Alzheimer's disease involving the same proteins. We then sequenced the transcriptome of this mouse and compared it to a control in order to isolate the gene(s) responsible for the Alzheimer's-like phenotype, so that we can better understand the physiological role of certain proteins associated with neurological disease.
Most Interesting Class: Genomics, Ethics, and Society This class was interesting to me because it involves aspects of the research I did this summer, which I found completely fascinating. It really solidified my choice to study genomics and join the research community.
Favorite Faculty Member: Dr. Dries, my research advisor, has made an unfathomable impact on my life. He welcomed me into his lab this summer and taught me the ins-and-outs of doing research from the ground up in a way that gave me the most value out of my experience. He taught me that I can do far more than I think I can, and he consistently pushes me to be successful not only in my research and lab work but in other areas of my life as well. He has opened doors for me that I would never have even known about were it not for him, and he introduced me to the field of study that I have now fallen in love with and know that I want to spend my career studying. Because Dr. Dries made an exception for me to join his lab this summer, I no longer have to wonder if I'm cut out for scientific research and I know that I'm in the exact place that I need to be to achieve my goals.
Honors Received: Dean's List 2012-2013
Thank you!

This scholarship is more important to me than anyone could ever understand. This scholarship is not just money that lessens the cost of my tuition, it allows me to come to Juniata and do what I love most, which is learn. Without this scholarship, I would not be able to do the research that I work on, making a difference (hopefully) in how curing Alzheimer's disease is approached. I would never have met my best friends, who will be my bridesmaids, the people my kids will call "Auntie and Uncle," and who will sit on the porch with me and gossip when we're 80. I would not be studying how to sequence genomes at 3 a.m. in the library, which I actually enjoy, and I would not be the happiest I've ever been at my dream school with better professors than I could have wished. You made all of this possible, and unfortunately there are not enough words to express my gratitude for your generosity and support. I hope that you can know how thankful I am.

Sincerely,
Taylor Stefanik
Class of 2016