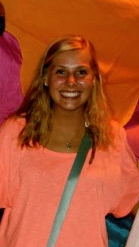 Kelsey Kohrs
Program of Emphasis: Environmental Science
Hometown: Honesdale, PA
High School: Honesdale High School
Why I chose to attend Juniata: I chose Juniata because of the small class sizes and hands-on learning experiences. I have excellent relationships with my professors because of the small class sizes. I had the opportunity to study abroad for my entire junior year and doubt I would have been able to do that anywhere else. Choosing Juniata was a no-brainer!
Clubs and Organizations: Mud-Junkies President and member of Her Campus
Internship: Smithsonian Conservation Biology Institute- Conservation Education Intern: Organized and led Conservation Campouts on the facility, assisted in organizing activities the FONZ Summer Camp, and lead tours of the SCBI campus.
Travels Abroad: Study abroad in The Gambia, Africa, the Galapagos Islands, Ecuador, and Pondicherry, India. Studying abroad the entire year was a blast! Being fully immersed in a different culture was an excellent learning experience!
Most Interesting Class: The most interesting class I have taken was Phylogenetics. I took this class while abroad in the Galapagos. It was very interesting to run different programs for basic phylogenetic trees. The professor was also very helpful and great at what he was teaching!
Favorite Faculty Member: Professor Bethany Benson has made a difference in my life. I look a ceramics class with her freshman year and loved it! Because of that I have become the Mud-Junikes President for two years and have a Studio Arts secondary emphasis. Without Bethany I would have never developed a creative side.
Thank you!

I am writing to express my sincere gratitude to you for my scholarship. I have received this scholarship for the past three years and was thrilled to receive it again.

I am majoring in Environmental Science with hopes of going into the Conservation Education field. Without your assistance, the financial aspect of college would have been daunting.

Thank you again for your generosity and support. I could not have done it without you!
Kelsey Kohrs
Class of 2014