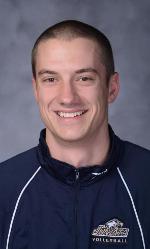 Mark Feiler
Program of Emphasis: Information Technology
Hometown: Mountville, PA
High School: Hempfield High School
Why I chose to attend Juniata: Because I like the community idea that the college promotes, and all professors want to see you succeed and are personally invested in each student.
Varsity Sports: Men's Volleyball
Most Interesting Class: The Art of Public Speaking. It is cool to learn the etiquette and guidelines to giving good presentations. Concepts we learn vary from body movements, to structure of a good speech, to oral citations, to the history of rhetoric, and more. I also for some reason enjoy public speaking, it's such an adrenaline rush.
Favorite Faculty Member: Professor Weimer, in our Metaverse class, challenges us to think outside of the box every class period. She is the smartest woman I have ever known, and each day we question what and how technology will change our present and future. She expects high quality work, and pushes us to do our best work with every assignment. Never have I questioned so much of my knowledge after being in this class.
Honors Received: National Society for Leadership and Success
Thank you!

Dear Class of 1977,

Thank you very much for the scholarship. For some students here, their family is very well off and paying for college is just a minor thing. My family is in a different boat. For 6 years total now, my parents have been able to support both me and my older sister to go through college at the same time, overlapping for two years. Were this and other scholarships not available, I would not be able to afford the opportunity to attend Juniata College.

Thanks again,
Mark Feiler
Class of 2015