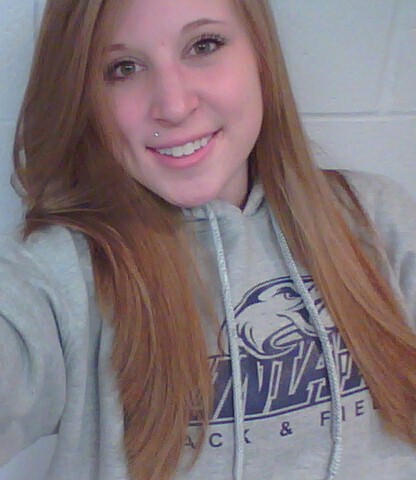 Chelsey Beaver
Program of Emphasis: Secondary English
Hometown: Shamokin Dam, PA
High School: Selinsgrove Area High School
Why I chose to attend Juniata: I chose to attend Juniata College because it could be my home. I was not looking for a college in which I faded away and became a number in a classroom. I desired a warm and loving environment where professors know me personally and support my endeavors. I love that I can walk across campus and receive warm smiles and well wishes from so many students, professors, and staff.
Clubs and Organizations: Since being at Juniata I have been in Colleges Against Cancer, Juniata Activities Board, and AWOL (All Ways of Loving). My club activities have since dwindled due to my involvement in sports but I still participate in AWOL. In this club I have not been able to take a large role due to overlap with sports but I do attend the meetings, pride week, and retreats.
Varsity Sports: I have competed on the track and field team for three years now. This includes indoor and outdoor track and field. I begin practice and lifting the second week of school and it goes on throughout the year. As a sophomore I was appointed as one of eight captains for our team of sixty students. My role as captain includes relaying information between coaches and athletes, informing the coaching staff of the team's general climate, leading track events and drills, enforcing rules (including the dry season of the 2013 season), supporting new members of the team, motivating, encouraging, and keeping a positive climate.
Most Interesting Class: As a sophomore my most interesting class has been Young Adult Literature. This class especially interests me because it pertains directly to how I could potentially teach these and other books in my future classroom. We strive to determine the difference between a "beach read" and literature and to understand where young adult literature falls. The active group discussion and lack of judgement in the classroom allows for exciting dynamic conversations about the books and we delve deeper into the adolescent mind.
Favorite Faculty Member: This year Carol Peters has made a great difference. Previously I have listed Will Dickey as making a difference and now that I have been influenced also by Carol Peters I have realized that I am analyzing what teaching methods engage me the most and which ones I would most want to transfer into my own classroom. Carol does a great job at leveling the playing field and allowing all of her students equal say in discussions. She also does not hinder our topics. She allows us to lead the discussions and talk about what we find important.
Honors Received: I have received academic honors for track many times now due to my ability to maintain my grades while participating in sports. I have also recently been asked to join the National Society for Leadership and Success. This group will demonstrate my leadership skills and allow me to better prepare myself for future endeavors such as teaching.
Thank you!

I cannot express enough my gratitude to the class of 1966 for their scholarship. This scholarship, along with any others that I receive, represents the fine line between attending Juniata College and attending a state school. The only reason that I could be a part of the Juniata community, my number one pick for colleges, is through the generosity offered by groups such as the class of 1966. The members of this class truly cannot understand what their kindness has meant to me. Again, I thank the class of 1966 for changing my life and bringing me the opportunity to attend my dream college.
Chelsey Beaver
Class of 2015