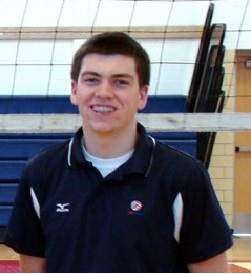 Matthew Johann
Program of Emphasis: Mathematics
Hometown: Center Moriches, NY
High School: Eastport High School
Why I chose to attend Juniata: The people at and around Juniata had such a great amount of real generosity.
Clubs and Organizations: Catholic Council - Met and helped each other reach peaks and balance. Made progress on community service projects and helped others around us. Null set- Made math not such a distant thing from what we do each and every day. JIF- Also known as babysitting club. I got to meet great young people who I not only got the opportunity to teach but also learn.
Varsity Sports: I tried walking on to the Men's Volleyball team three years out of the four and did not make it once. I did however become a manager/student assistant and learned how to become a coach. This will go much further than playing would have and I am grateful for being cut because "if there is no struggle, there is no progress." ~Frederick Douglas
Internship: With a secondary emphasis in education the only thing I missed a major in secondary education was student teaching. I did however get to experience the high school classroom all my years here at Juniata. Two years at HAHS and one year at Juniata Valley. I also was a volunteer assistant coach for the boy's volleyball team at HAHS.
Most Interesting Class: Public Speaking. It made me realize the similarities in communication. It also allowed me to be free and make speeches that one day may be spoken to thousands instead of just 13 students.
Favorite Faculty Member: That is such a loaded question because all faculty members have changed my life in some way or another. After all I did live and interact with them for four years. Everyone that I seemed to talk to made whatever the situation was stick in my mind and help me in future scenarios.
Thank you!

Being able to attend Juniata was the best possible thing that could have happened to me my senior year of high school. This ability was just a dream without your generosity and support of Juniata. I would not be the man I am today and hope to be without Juniata and there would be no Juniata for me without you. So thank you so much for your generosity in changing my life and making me into the best man I can hope to be.

Gratefully,
Matthew Johann
Class of 2014