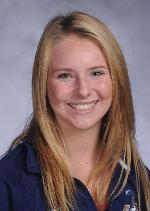 Alyssa Peachey
Program of Emphasis: Biology
Hometown: Hummelstown, PA
High School: Lower Dauphin Senior HS
Why I chose to attend Juniata: I chose to attend Juniata because of the welcoming atmosphere, friendly faculty and the best financial package of all the schools that I applied.
Clubs and Organizations: Colleges Against Cancer member
Varsity Sports: My Freshman and Sophomore year I was a member of The Juniata Women's Swim Team. I swam 200 IM, 100 butterfly and 200 butterfly.
Most Interesting Class: General Physics with Dr. Borgardt is so interesting because it applies to everything we do. I never thought I would ever say I enjoyed Physics, but surprisingly I really like the subject.
Favorite Faculty Member: Dr. Borgardt was the first professor I met even before I was a student here, and he was the biggest influence in my college decision. He was my advisor for my freshman year, before he left for a year on sabbatical, and is currently my physics professor. He is such a friendly and helpful person who also brings life to every physics problem.
Thank you!

Thank you so much Class of 1971. With your financial help, I am able to attend Juniata for all four of my college years. Without your help, I would not be able to afford a four year liberal arts education and would not be able to attend Juniata.

Thank you!
Alyssa Peachey
Class of 2015