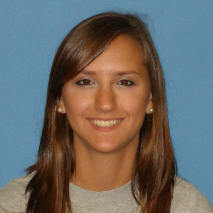 Angela Stepp
Program of Emphasis: Environmental Science
Hometown: Duncannon, PA
High School: Susquenita Jr-Sr High School
Why I chose to attend Juniata: Out of all the schools that I visited, Juniata was the only one that caught my eye. The people were friendly, it was small and rural, and the academics were outstanding. I knew that I would be able to reach my full potential here at Juniata. I knew I would not only have to push myself, but others would push me as well.
Clubs and Organizations: Eagle Ambassadors
Most Interesting Class: The most interesting class that I have taken at Juniata thus far would be Survey of Western Art. This class was not one that I would normally take (being a science major,) but to fulfill my FISHN requirements I decided to take it. I knew that it would be out of my comfort zone, which I found exciting. As the semester draws to a close, this has been the one class that I came into knowing nothing about and came out of learning the most. It challenged me and made me think differently. I feel this is why I found my art history class to be the most interesting.
Favorite Faculty Member: I feel that my advisor, Julie Woodling, has made the most difference in my life. I have had to make some difficult decisions in this first semester and Julie has been helping me since day one. Even though we have only had a few brief meetings, the words spoken have meant much more to me than that of any professor thus far. I know that if I ever need anything in the future, she will be there to help me. This is something that I greatly appreciate.
Thank you!

I would like to start by giving a huge thank you. I only hope that this letter will show the gratitude that I feel. The scholarship that I received through the JSF was one of the primary reasons I was able to attend the school of my dreams, Juniata. The price without this scholarship was far too much for my family to afford, and I most likely would have had to attend a cheaper school closer to home - likely compromising academics and opportunities. The scholarship that I, and many others, have received gave me the chance to attend Juniata and live out my dreams. Thank you again.
Angela Stepp
Class of 2017