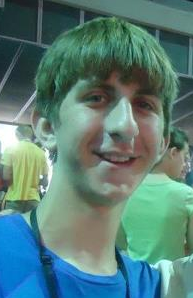 Zachary Nash
Program of Emphasis: Wildlife Conservation
Hometown: Lebanon, PA
High School: Lebanon Catholic Jr-Sr HS
Why I chose to attend Juniata: I have always loved animals. I knew I wanted to help them but all of the colleges I looked at didn't seem to offer an in-depth program for that. When I found Juniata, I was amazed the level they go to for wildlife programs. It is fantastic and I knew this was my choice.
Most Interesting Class: I really like my Conservation Biology class. It may be hard, but good college classes should be. I find it very interesting and the various topics on how to save different species and ecosystems is what I came here to learn.
Favorite Faculty Member: The whole environmental staff is fantastic. I've had or will have had most of them in my planned schedules for my years here and they are all great.
Thank you!

Thank you so very much for this scholarship. This helps me get my dream degree which wouldn't be possible without help on your part.I probably would have needed bigger loans, more jobs and overall more stress without this financial aid. It is appreciated greatly.

Sincerely,
Zachary Nash
Class of 2016