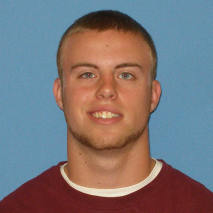 Nathan DeCriscio
Program of Emphasis: Mathematics
Hometown: Altoona, PA
High School: Altoona Area Sr High School
Why I chose to attend Juniata: I chose to attend Juniata College because it is a small campus, it is only about forty minutes from where I live, and I love the atmosphere and family-like feel here. I remember touring this campus and just imagining myself being here. I didn't want to go to a large school where I was just going to be another number. I wanted to go to a school where I would be able to meet most of the people on campus and form relationships with my professors. Juniata gives off such a great vibe that makes it feel just like home and everybody that works here is here for the students and to make their experiences the best they can.
Clubs and Organizations: I am a member of a non-profit organization called Caring for Kids with Cancer(CFKC). I am a board member for the organization and the social network administrator. Helping out kids who are less fortunate than everybody else in the world is such a great feeling that I cannot even begin to describe.
Varsity Sports: I play football here at Juniata College. I play outside linebacker.
Most Interesting Class: The most interesting class I have taken this year is Computer Science I. Prior to this course, I had no experience with programming on computers. It has been very fun and unique to learn how to program on a computer. It has opened a new potential career for me that I may pursue. It is interesting to see just how to take a computer and put it to use by writing programs for it.
Favorite Faculty Member: Coach Launtz, my football coach, has made the biggest impact on my life so far. He always gives inspiring quotes and sayings to us and really drives us to be the best that we can. He stresses success in the classroom and that is why we are at college. Coach Launtz is a great person who has made a lot of comments this year that I think of each and every day even when I'm not at football. To me, he is more than just my football coach. He is a mentor that strives to make an impact on each and every football player's life.
Thank you!

I can't even begin to explain how thankful I am to have received this scholarship. All of the money I received through scholarships and grants has given me the opportunity to attend Juniata College. Without this financial support, I don't know if I would be at Juniata right now. I needed all of the money that I received and I am so grateful to have people as generous as you to help me get through my college education. Thank you so much for giving me the opportunity to come to Juniata College and further my education at a great school.

Sincerely,
Nathan DeCriscio
Class of 2017