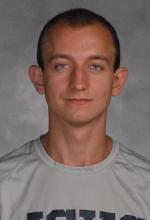 Petro Sokirniy
Program of Emphasis: Chemistry
Hometown: Huntingdon Valley, PA
High School: Upper Moreland High School
Why I chose to attend Juniata: The deciding factor that made me choose Juniata was that it is affordable. I will be honest, at first I didn't think this was a special place. Though after making it to almost the end of my first semester I can safely say I was dead wrong. Though it can be chilly out here, the people are warm. The staff won't just talk to you, they will listen to you. This school is truly wonderful.
Varsity Sports: Juniata Cross Country Runner
Most Interesting Class: I often find that the more difficult a class is, the more interested I tend to be in that class. Organic chemistry is no exception. When I first took AP Chemistry, I always felt as though something was missing. There were shortcuts in the information that we learned, but nobody ever explained how these shortcuts came to be or how we know about them. Organic chemistry filled in some of those missing pieces and expanded on them.
Favorite Faculty Member: When I first entered Juniata I was exploratory. Though his class changed that to Chemistry. He teaches Organic Chemistry and the way he presents the information is clear and reliable. Everything from the diagrams he draws to the occasional joke he makes keeps my attention focused. He is Professor Unger.
Thank you!

In the past nineteen years of my life I have never had someone other than my family sponsor me in any way. That is particularly why this scholarship is so important to me. My family can only do so much and I can only try so hard before there is a limit to what can be accomplished. This scholarship lets me further my education so that someday I will not be the one who receives aid, but rather someone who can give aid.

Thank you again,
Petro Sokirniy
Class of 2017