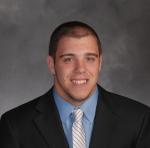 Kyle Gill
Program of Emphasis: Engineering Physics
Hometown: East Stroudsburg, PA
High School: East Stroudsburg Area High Sch
Why I chose to attend Juniata: I chose Juniata College because I really like the atmosphere. I am not the type of person who likes large groups of people. Growing up in the Poconos, I was very accustomed to large areas with few amounts of people. At Juniata, I can obtain a quality education without being one of thousands in my particular major.
Varsity Sports: Football: Offensive Line
Internship: Industrial Engineering: This past summer, I worked alongside my father who is an Industrial Engineer at Paramount Metal Plating & Finishing in Linden, New Jersey. At this internship, I took over large amounts of responsibility in running different sandblasting programs for military-grade equipment. I also helped my father design different pieces of equipment and machinery to be used throughout the plant.
Most Interesting Class: The most interesting class I am currently taking this year is Modern Physics Lab. Coming into the year, I really enjoyed working with my hands making things. A lot of this type of work was done in my internship over the summer. However, I have never liked doing labs because I always felt as though what I was doing was never applicable. This class made me realize that lab work is not what I had previously thought. In these labs, we took theoretical applications of modern Physics and applied them to past experiments.
Favorite Faculty Member: The faculty member that has made a difference in my life is Coach Doug Smith, our strength coach. Coach Smith has pushed us to work hard in the off-season, but has also told us to enjoy the current moment. Often times, I have found myself always so busy that I have forgotten to enjoy where I am. Coach Smith explains that we should enjoy doing what we do whether it be school, athletics or the workouts that prepare us for each season.
Honors Received: Dean's List
Thank you!

I would like to thank the Class of 1972 for giving me such a generous scholarship. In our current economy, the importance of a college education is becoming extremely vital, but at the same time the cost is also rising at alarming rates. Therefore, by rewarding me with this generous scholarship, I am able to afford to obtain an education. If it were not for this donation, I would probably would have been in a very deep hole in terms of debt.

Thank you again,
Kyle Gill
Class of 2016