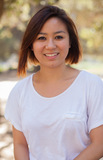 Anvy Tran
Program of Emphasis: English
Hometown: Boston, MA
High School: Boston Latin School
Why I chose to attend Juniata: I decided to attend Juniata because I wanted to be in an environment where people care. The sense of community and the kind atmosphere was what won me over.
Clubs and Organizations: I am participating in Women's Rugby. It is my first female team sport. I love playing rugby and forming friendships with the girls on my team!
Most Interesting Class: The most interesting class I have taken this year is my College Writing Seminar. Words have always been natural to me and I greatly enjoy writing. I have always felt disorganized about my writing but CWS has helped me find structure to what I want to write.
Favorite Faculty Member: My Writing Professor, David Wilkins, has guided me in nourishing my love for writing. He has helped me learn how to write effectively and with purpose. I now feel less scattered and have gained more confidence that I can write.
Thank you!

Thank you for giving me this scholarship. It has given me the opportunity to focus on my schoolwork and has helped ease the financial pressure I feel about attending college. I am grateful to be supported and remembered by alumni of the College. Without this financial support, I definitely would be more stressed and nervous about being able to complete college.
Thank you so much!
Anvy Tran
Class of 2017