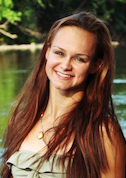 Raegyn Taylor
Program of Emphasis: Chemistry/Math
Hometown: Huntingdon, PA
High School: Penna. Homeschoolers Accred. A
Why I chose to attend Juniata:
Varsity Sports: During the 2012-2013 school year I was a part of the Women's Swimming Team. I swam the 100 and 200 Breaststroke along with the 200 IM.
Travels Abroad: I will be studying abroad at the University of Otago in Dunedin, NZ, for the spring semester of 2014.
Most Interesting Class: I have really enjoyed my Organic Reactions class this semester. Learning about more of the little details that are involved in chemical reactions is always interesting and surprising. I have also loved my Digital Photography class because I get to be creative and utilize a lot of techniques to portray different feelings.
Thank you!

Words cannot express how thankful I am to the Juniata Parents and Friends for giving me the opportunity to receive this scholarship. Without your donations, I would not have been able to come to Juniata College. I could not be happier with the experiences and education I have received so far at Juniata and this support has taken away a lot of the stress involved with paying for college. Thank you all for your incredible generosity.

Sincerely,
Raegyn Taylor
Class of 2015