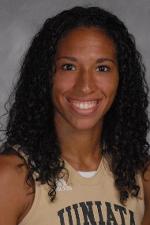 Mikaela Sloan
Program of Emphasis: Wildlife Conservation
Hometown: Madisonburg, PA
High School: State College Area High School
Why I chose to attend Juniata: I chose Juniata, because it gives me the opportunity to pursue my career goals while still having the ability to play the sport I love and participate in other activities.
Clubs and Organizations: I am the current secretary for the Juniata Big Brothers Big Sisters club. I handle the communication between members and officers, as well as contribute to event planning and organization.
Varsity Sports: I have been on the Juniata Field Hockey team since my freshman year. I have begun to contribute more and more to the team as a defender, midfielder, and forward through the past three seasons. I look forward to becoming an even bigger impact on our success in my final season.
Research Participation: This will be my second year participating in the Box Turtle Research at the Raystown Field Station with Dr. Roy Nagle. My role in the past was to assist in gathering data and information about the overwintering of the box turtles at the field station. Currently, I am working on a scientific paper regarding our findings from the past three years.
Most Interesting Class: The most interesting class I have taken this year has been Mass Media and Society. This class sparked my interest in technology and how it shapes our society today.
Favorite Faculty Member: My coach, Caroline Gillich, has made a difference in my life. She has inspired me to never give up and to always strive to do better.
Honors Received: I am currently being inducted into the National Society of Leadership and Success.
Thank you!

This scholarship is what gives me the ability to have the education that I am receiving. Not only do I have the opportunity of knowledge, but the ability to pursue my interests and to be a part of the legacy that is Juniata College. For that, I thank you.

Sincerely,
Mikaela Sloan
Class of 2015