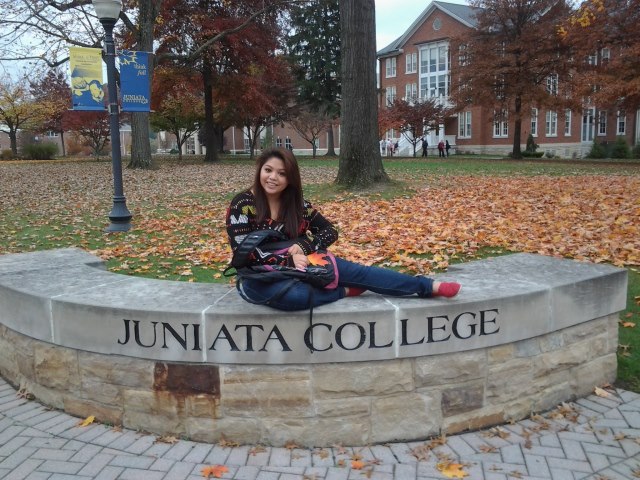 Kassandra Tafolla
Program of Emphasis: Psychology and Communication
Hometown: Weslaco, TX
High School: Idea College Preparatory Schoo
Why I chose to attend Juniata: The main reason why I decided to attend Juniata was because the day that I first visited the college I fell in love with the campus and the environment. Everyone was so welcoming and there was not a time that I felt like I was being judged. In addition, I admired the fact that I was able to create my own POE. Lastly, I was given a good scholarship and that was what finalized my decision in selecting Juniata as the school I was going to attend the next four years.
Clubs and Organizations: I have participated in the Spanish Club. It allowed me to continue my culture with others and being able to express my traditions and speak my first language. I have also participated in the Eagle Ambassadors. I was able to communicate with high school students that were thinking about attending Juniata College. Lastly, I was also in the SAA, Student Alumni Association. I would volunteer my time to help the school out by decorating the campus for different events and holidays. We would help in events that needed volunteers.
Internship: I have recently accomplished an internship the summer of 2013 at the IDEA Public Schools Headquarters located in Weslaco, Texas. I was given insight of how the district ran and was also given tasks that were needed for the Development department. That was the department that I worked. I gained several experiences from this internship. I learned how to correctly complete a resume, a successful interview, things that should and should not be done, what to expect and most of all the hard work that is done behind a desk.
Most Interesting Class: One of the most interesting classes that I have taken this year was Philosophy. I learned so much by taking this class. I was able to see the different interpretations and angles to certain scenarios and topics. This allowed my mind to open and put my religious beliefs to the side.
Favorite Faculty Member: One particular person that has made an impact in my life would have to be Philip Dunwoody. Each time that I would visit him in his office he would always listen to everything that I would say. In addition, when I had problems going on in my life he would listen and he would not judge me. He gave me so much advice during my first semester at Juniata and made it so much easier in adapting to the new environment.
Thank you!

I would first like to say, thank you! The fact that I was given this scholarship I was able to attend Juniata College and experience the life that many students from the Rio Grande Valley would kill to have. I did not come from a wealthy background and being awarded this scholarship means a lot to both my family and I. This meant that we did not have to worry about paying the whole tuition. If I was not awarded any scholarship, I probably would not be attending Juniata. This has always been my dream college since I was a junior in high school. Thank you for making this dream come true.

Sincerely yours,
Kassandra Tafolla
Class of 2016