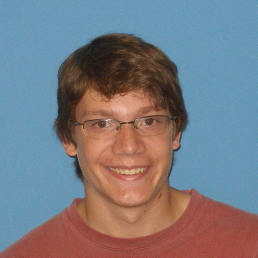 Alexander Matoushek
Program of Emphasis: History and Museum Studies
Hometown: Scranton, PA
High School: West Scranton High School
Why I chose to attend Juniata: I chose Juniata because I always wanted to go to a smaller school. It gave me a homey feeling as soon as I first stepped onto the campus.
Varsity Sports: I am an outfielder for the Juniata's Baseball Team.
Internship: I did participate in some volunteering in my hometown at Steamtown National Park.
Most Interesting Class: Civil War and Reconstruction is by far the most interesting course I have taken this semester. I have always been a Civil War buff, and this made my feelings even greater on the subject.
Favorite Faculty Member: Mostly every history professor I have had thus far in my college career. They have each taught me something different, and have given me a wider range of knowledge and confidence.
Thank you!

Thank you very much for presenting me with this scholarship. It is important because it helped me continue my academic career at Juniata. Without it, I am not sure where I would have been. Thank you once again for the scholarship, it meant a lot.

Sincerely yours,
Alexander Matoushek
Class of 2016