Where:
Gibbel Stadium, Winton Hill Athletic Complex
Description:
Whether you are new to the position or a seasoned pro, our goalkeeping clinics will help you refine your fundamentals and raise your game to the next level. We will touch on every aspect of goalkeeping – Eye-hand Coordination, Reflexes, Footwork, Stance, Save Technique, Shot Stopping, Clearing and Stick work – but we will especially focus on low shots and bouncers.
Schedule:
9:45
Check In
10:00
Warm Up / Stretch
10:10
Drills and Games
10:55
Break
11:00
Drills and Games
11:45
Minute to Win It
11:55
Cool Down / Stretch
12:00
Optional Admissions Information Session
What to Bring:
Stick
Gloves
Helmet (with throat protector)
Chest Protector
Thigh Pads
Shin Guards
Mouth Guard
Sneakers
Water Bottle
A Great Attitude
Learn About Juniata College:
Our Admissions team leads tours of campus on Saturday mornings at 10 and 11am. Parents are welcome to join a tour while their daughter is participating in the clinic. There will also be an Admissions Information Session at 12 at the Enrollment Center that parents and players are welcome to attend. Please email or call to let Coach Radio know you would like to attend at least one week in advance.
Clinic Director:
Juniata College Head Women's Lacrosse Coach, Naomi Radio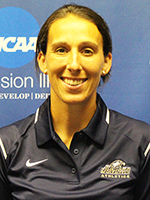 A graduate of Division I Mount St. Mary's University in Emmitsburg, Md., Radio graduated Summa Cum Laude with a Bachelor of Arts degree. She also holds a Master's Degree in Arts in Teaching from MSMU. Radio was a two-time Academic All-America First Team selection in lacrosse from 2004-05 and was selected as the NEC Student-Athlete of the Year in 2004.
In her Mountaineer playing career as a goalkeeper, Radio was named All-Northeast Conference (NEC) three times, including being named to the First Team twice and earning Player of the Year honors in 2004. She finished her career as the all-time leader in saves at The Mount, totaling 770 from 2002-05, a mark which ranks 22nd in Division I history.
Radio is also The Mount's career leader in minutes (4,342:50) and wins (41) while leading the NEC in saves percentage three consecutive years from 2003-05. In addition to being named All-NEC First Team and NEC Player of the Year in 2004, she led the conference in goals against average and saves percentage and totaled a school-record 225 saves. A starter in 74 of the 75 games she played in at Mount St. Mary's, Radio currently holds four of the top-six records for saves in a single-season. She was inducted into the Mount Saint Mary's Athletic Hall of Fame in January 2016.