Visit Juniata's FeedSpot for all your news and announcement needs!
Today's Featured Announcement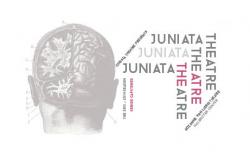 Juniata Theatre Presents "Senior Capstones 2013-2014"
December 5-6 @ 7:30PM in the Suzanne Von Liebig Theatre
Performances, installations, and design by our talented Senior Theatre Performance POE's. Showcasing and presenting the work of: Gary Shoemaker, Phil Oberholzer, Sara Lucchini, Lara Schaffer, and Lauren Hitzhusen.
---
There will be FREE yoga during finals week! (posted by: portesm11)
Tuesday at 8am and Friday at 10am in the basement of VLB - View full announcement


Stress Busters are here!!!! (posted by: studstudactiv)
Thursday, December 5th Dogs and Donuts 6pm - 8pm Ellis Hall Ballroom Sponsored by PAWS Sunday, December 8th Late Night Snacks 10:30pm The 24/7 Space in Ellis Hall Sponsored by the Office of Student Activities Monday, December 9th Pancake Brunch 10:00am - 1:00pm TNT Lounge Sponsored by the Christian Ministry Board Monday, December 9th Relaxation Lounge 6:30pm - 10:30pm Ellis Hall Ballroom Sponsored by JAB Tuesday, December 10th Pizza with Public Safety 10:30pm The 24/7 Space in Ellis Hall Sponsored by the Office of Student Activities & Public Safety


Show Us Some Luvs would like to thank YOU! (posted by: yablomx10)
The Social Work Practice: Large Groups, Organizations, and Communities students would like to send a HUGE thank you to everyone who helped and contributed to our diaper drive. With the help of the Juniata and Huntingdon community, a total of over $400 was raised and several hundred diapers were collected. In all, with the proceeds and donations, we were able to donate over 3,000 diapers to Crossroads and The Salvation Army on Tuesday, December 3rd. Thank you for the support and helping this project be a great success. More importantly, however, thank you- for this will be an immense help to the families who receive these diapers.


Madrigal Dance Tickets (posted by: lesioa10)
Madrigal Dance Bracelets - $10 - View full announcement


Calling all animal lovers! (posted by: studcommserv)
Donate items to be sent overseas to various K9 units serving our country! - View full announcement


Before You Leave!!! (posted by: studcommserv)
Finishing up that last glob of shampoo before you leave campus for the holidays? Then recycle your empty shampoo and other personal hygiene product containers with TerraCycle! - View full announcement


Pasta Dinner (posted by: broomfk)
Pasta Dinner Tuesday, December 10 from 5:30-6:30PM Stone Church Social Hall (located on corner of 17th and Moore Street right next to campus) Please sign up in advance so we don't run out of food!!! To sign up, email your name by Monday, December 9 to This email address is being protected from spambots. You need JavaScript enabled to view it. - View full announcement


Do-Tel Project : Advent Dinner! (posted by: monihel)
Tis the season for gathering together over a meal, right? We're celebrating the end of the semester with a special Do-Tel dinner! We'll be lighting candles and feasting upon a tasty meal in the midst of a busy season. - View full announcement


Donations for the Salvation Army (posted by: perowl)
Salvation Army boxes are now in the buildings. Please donate items such as: hats, gloves, scarves, non-perishable food items & new/gently used coats. - View full announcement


Student Sale! (posted by: kohrska10)
Ceramic sale Friday in Ellis! - View full announcement


Tutors & Tutees - We need your help!! (posted by: sheffib)
Help us to improve the services the Peer Tutoring Program offers by providing us with your feedback in your tutoring evaluations! - View full announcement


Catholic Mass - time change (posted by: baerl)
Please note the change of time due to the Sunday finals schedule. - View full announcement


Advising and Course Evaluation Reminder-Fall 2013 (posted by: lucasr)
Course and Advising Evaluations End at Midnight, Friday, December 6, 2013 - View full announcement