Hamilton Square, N.J. Student Receives Gilman Scholarship
(Posted January 3, 2017)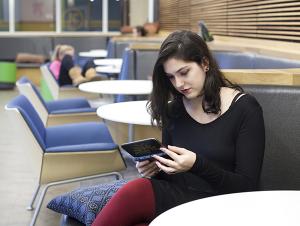 Photo by Gordon Dimmig '17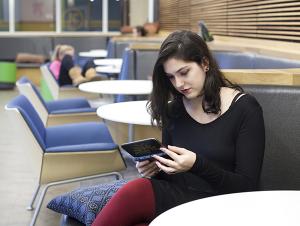 Photo by Gordon Dimmig '17
HUNTINGDON, Pa. --Miranda Suarez, a junior at Juniata College from Hamilton Square, N.J. studying interactive media writing, received a $4,000 Benjamin A. Gilman Scholarship to study abroad fall semester 2017 at the Kansai Gandai University, in Osaka, Japan, and then in spring semester 2018, the University of Otago, in Dunedin, New Zealand.
            Suarez, the daughter of Joanne and Anthony Suarez, both of Hamilton Square, will take a variety of courses at both institutions. She is a 2014 graduate of Steinert High School.
            The Gilman Scholarships, named for Benjamin Gilman, a Republican U.S. Representative from New York, offer grants for undergraduate students of limited financial means to study abroad. More than 1,200 scholarships of up to $5,000 are awarded every academic year. The program also encourages students to choose non-traditional destinations for their study-abroad experience.
            The program is funded by the Bureau of Educational and Cultural Affairs in the U.S. Department of State.
            Passionate about video games since childhood, Suarez is pursuing a professional writing career in the video game industry. She has been active on campus, including being former vice president and social media coordinator of the Juniata branch of ONE, a national nonprofit organization formed to help end global poverty. The club was named Outstanding New (Student Club) by Juniata. She also is a member of the Philosophy Club.
            "I took Hannah Bellwoar's class on interactive media writing and I just fell in love with it," says Suarez. "Juniata as a whole has offered so many opportunities, including the chance to attend college through generous financial aid. The faculty and administrators are what really make this place special. They are consistently available, approachable, and intelligible. They go out of their way to help the students here, especially in regard to studying abroad."
Our readers respond...
Click here to provide a response of your own.
Contact Gabe Welsch at welschg@juniata.edu or (814) 641-3131 for more information.