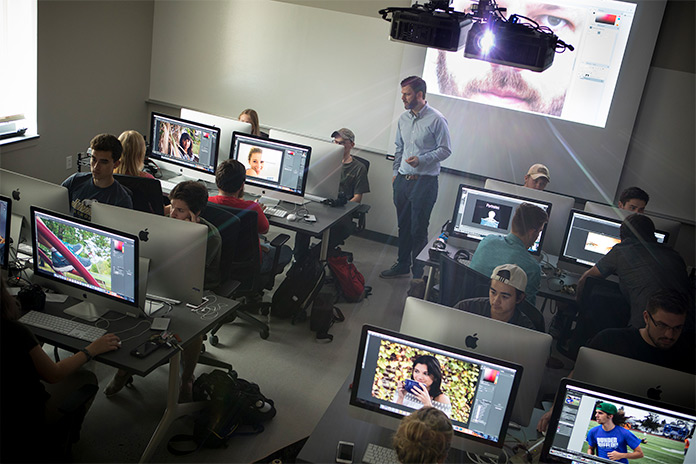 Gordon Stillman instructs a digital photography class in the newly-built Kepple Hall,
home of Juniata's IMA program.
---
Across campus, IMA students have access to a plethora of industry relevant resources and facilities. Students also have the opportunity to gain access to cameras and a willing crew of your peers. In fact, Juniata's IMA program cooperates frequently with our theatre faculty and students. The theatre department faculty includes practicing actors from across the nation.
---
Kepple Hall
The Tom and Pat Kepple Integrated Media and Studio Arts Building, or Kepple Hall, was created as a hub for art. Opened in the fall of 2017, this new addition to campus will help students collaboratively craft, manipulate, and showcase art in traditional media alongside video, digitally enhanced images, and various integrated media. Kepple Hall gives students access to new tools and facilities that will complement and grow the study of traditional arts creation and curation.
The building features community space, where students can undertake group work, and flexible space, wherein rooms can be transformed to suit various art creation, critique, and exhibition needs. To ensure students can explore various media, four studio rooms provide teaching and work space for drawing, painting, 3D design and digital art. This state of the art facility houses computer labs and private editing suites, photography based computer labs, photography studio, and a IMA Studio focused on audio and video production. Additionally, as with all of Juniata's campus, Wi-Fi is available.
Digital Media Studio (DMS)
While working in the DMS, students learn digital video production, including video camera operation, computer video editing, proper lighting techniques, operation of green screen and Chroma Keying, and a multitude of other technical and creative skills.
The Digital Media Studio also provides members of the Juniata community, that don't have extensive knowledge in video-production, an opportunity to have professional-grade video produced, if any need arises.
Some things the DMS produces include documentaries, theatrical productions, training videos, and marketing productions.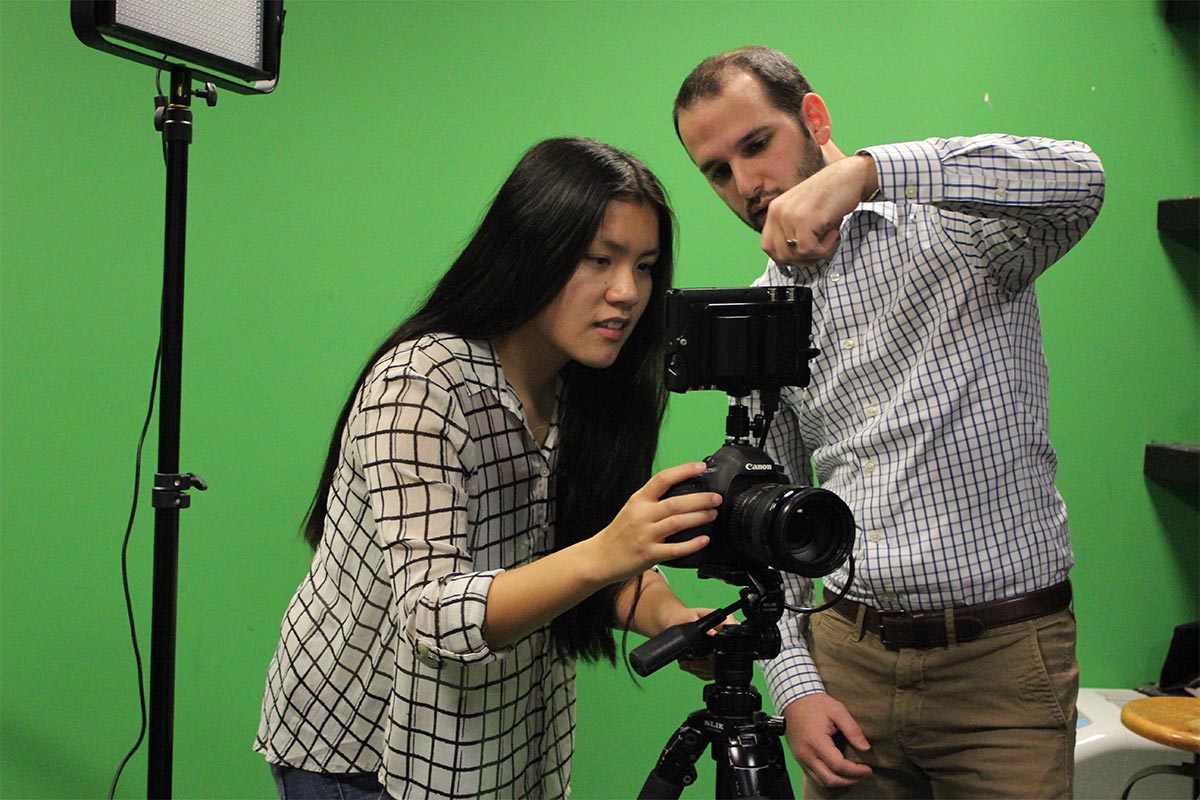 ---
Emily Angeline '18 with her mentor Luke Fragello at the Digital Media Studio.
Read more
about how her experience as a JA helped Emily with her career.
Technology Solution Center (TSC)
The Technology Solutions Center (TSC) is a student-managed media lab. It houses a Mac based lab, allowing users to work on industry relevant equipment.
From the TSC, students can reserve digital cameras, lighting equipment and laptops.The TSC also offers training classes in certain software packages, on top of one-on-one help in using any software programs that are on the TSC Lab computers.
Some of the software programs available in the TSC Center include: Adobe Creative Cloud (which includes programs like Photoshop, Illustrator, Premiere, After Effects, and InDesign), iMovie, iDVD, Garage Band, and many more industry relevant programs.
All of the services offered are completely free for students.
Video Production Team (VPT)
The Technology Solutions Center has a student run Video Production Team (VPT) that focuses on video proejcts for faculty, staff, and students on campus.
Student Employment
Students have a variety of opportunities for employment on campus. Options include:
Juniata Marketing Office
develop print or web media for the college

Digital Media Studio
author and create videos for Juniata college marketing
Technology Solutions Center
generate and manage the technology solution center
Video Production Team
plan, shoot, edit, and compile videos for academic use on campus
Sports Information
Work in media with and for our Juniata sports teams
Juniata College Print Shop
help with publication and print solutions