PAX-O \PAKS-oh\ noun: 1. a group that will change the world; 2. Juniata's student peace organization.
2016 – 2017 Officers
President: Savannah Parsons
Vice President: Bekah Ford
Treasurer: Rebecca Baron
Secretary: Dom DeFelice
PAX-O invites any students interested in community activism for Peace to join us in our efforts. Regular meetings, Thursday at 8 pm located in the PACS Resource Room, first floor Oller Center, are open invitation.
Join the PAX-O Facebook group for regular updates and event information.
Upcoming PAX-O Events
International Day of Peace, Sept. 21: PAX-O is sponsoring a poetry reading to celebrate the 2016 International Day of Peace, to be held beginning 7:30 PM in the Juniata College Museum of Art. Students from PAX-O, Campus Ministry, PRISM, The Enviromental Coaltion, and others will perform a variety of poems regarding their perspective on peace.
Recent PAX-O Projects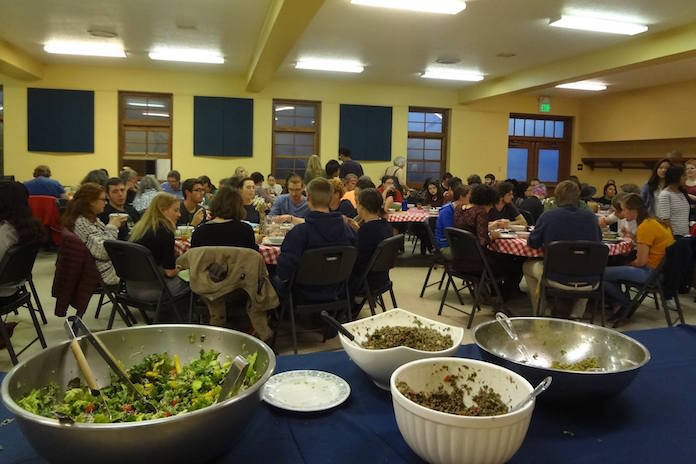 FEAST
An acronym for Food-Expression-Art-Storytelling-Thought, FEAST is a semiannual meal in which club members and students break bread with members of the Juniata and Huntingdon communities. In the 2015-2016 academic year, PAX-O held three such events.
ONE BILLION RISING
PAX-O hosted their own One Billion Rising event on the Juniata campus. Keeping with the theme of standing up to violence against women and girls through dance, students learned about this cause and participated in a zumba class. We also collected toiletries for Huntingdon House, a program for victims of domestic violence. In 2016, the One Billion Rising event was held Sunday, Feb. 14, in Ellis Ballroom.
PINWHEELS FOR PEACE
On International Day of Peace (September 21) Juniata students lined pathways with pinwheels decorated with their visions of peace. Later that night, students walked to the Peace Chapel, reflecting on the world and current issues, as well as how a culture of peace can be created.
NIGHT OF A THOUSAND DINNERS
This was an incredible opportunity for students and their professors to come together for a great cause. Students donated money to Kiva Microfunds and in return ate a home cooked meal by their favorite professor at their house.
EMPTY BOWLS
Every year, money is raised and donated to a local soup kitchen through the empty bowls event. Pottery students create ceramic bowls, and local restaurants donate gallons of soup and bread, which together attract many students and community members. PAX-O takes on the task of providing the soup.
IN ADDITION TO THESE PROJECTS AND EVENTS…
PAX-O also collaborates with other RSOs and organizations on campus, including multi-faith groups. Together, we are able to coordinate larger events, such as Genocide Awareness Week. PAX-O is also a flexible group, able to organize events on short notice in response to current issues. Last year, we hosted Pancakes for Peace, raising money for On Earth Peace when founder, Bob Gross walked through three states and stopped at Juniata. He gave a workshop here titled "Peacebuilding and the Earth."