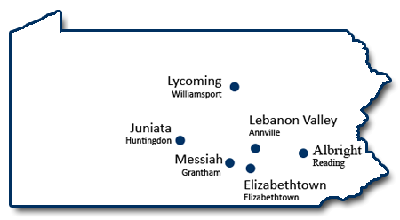 Schedule of Events
Tuesday, November 13, 2018
1:30 pm Check-in at the Hilton Garden Inn, Hershey
Elizabethtown program and Dinner
Wednesday, November 14, 2018
Breakfast at Hotel
Albright program and Lunch
Lebanon Valley program and Dinner
Thursday, November 15, 2018
Breakfast and check-out of Hilton Garden Inn, Hershey
Lycoming program and Lunch
Juniata program and Dinner
Evening check-in at the Fairfield Inn & Suites, Huntingdon
Friday, November 16, 2018
Check-out of Fairfield Inn & Suites, Huntingdon
Messiah program and Breakfast
12:30 pm departure for the Hilton Garden Inn, Hershey
**Program includes all meals, single-room lodging at all hotels, and all transportation during the tour. Counselors are responsible for arranging and funding their own transportation to the starting point of the tour, Hilton Garden Inn, Hershey. If you plan to fly, the closest airport to the Hilton Garden Inn is the Harrisburg International Airport. Visit http://www.flyhia.com/ for more information. Taxi service from the airport to the hotel is approximately $25.00. The Hilton Garden Inn will provide free shuttle service back to the airport on the final day of the tour.
A $50.00 refundable deposit will be requested in a follow-up mailing you will receive after completing the online registration form below. The deposit is refunded to you at the end of the tour.
To register online, please complete this form. Upon receipt of your registration, you will receive a paper confirmation including a request for your $50.00 refundable deposit and more detailed information about the tour. This official confirmation and additional information will be mailed to the address provided on your registration form.