Alumni Relations Specialist
Joined Juniata Staff in 2002
814-641-3441
gibbonc@juniata.edu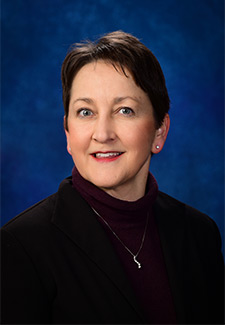 Christie is a native of Huntingdon and joined Juniata after thirteen years with Bonney Forge in Mount Union, where she was a Team Leader in the Sales Department. She earned a Business Management Certificate from Juniata in 1981 and is also a graduate of Huntingdon Area High School.
Chris is staff liaison to the Alumni Council. She provides vital support for Alumni Weekend, Homecoming & Family Weekend, Career Day, Regional and Affinity Programs, and International Reunions. She also manages the recording of Juniata volunteers and other data entry functions.
As a member of Stone Church of the Brethren in Huntingdon, Chris serves on the Worship Team and Leadership Team. She assists with Sunday School and youth activities, and has been involved with choir and special music. Through the years, Chris has volunteered for Huntingdon Country PRIDE, Huntingdon High School's Music Boosters, Boy Scouts, and Huntingdon Community Center's athletic programs. She enjoys music, kayaking, fishing, downhill skiing, traveling, and spending time with her husband Chip, her daughter Kait, and her son Alex.