Assistant Director of Career Development
Joined Juniata Staff in 2011
814-641-3350
stubert@juniata.edu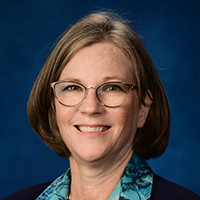 Tammy Stuber presently serves as the Assistant Director of Career Development. Previously, she had served as the department's Administrative Coordinator, a position she held since December 2011, before being promoted to her current position in August 2013.
Tammy has a professional background in social work. She earned a bachelor's degree from Longwood College. During her senior year, she interned with the Loudoun County Juvenile and Domestic Relations Court Service Unit as a Juvenile Probation Officer. Upon graduation, she was hired at the Court Service Unit as a result of her work in helping to write a grant to develop an electronic monitoring home incarceration program. Tammy has also worked for the American Cancer Society and the March of Dimes.
Tammy and her husband, Charles, have lived in Huntingdon since 1997. They have three children: Rachel, Ashley, and Brandon.