Alumni Engagement Coordinator
Joined Juniata Staff in 2022
814-641-3448
waites@juniata.edu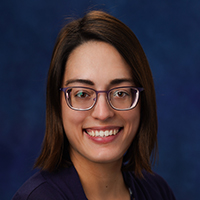 During her first ever college visit, Sierra fell in love with Juniata. As a first-generation college student, she discovered the value of a liberal arts education with a tight knit community, an individualized degree program, and experiential learning opportunities. Sierra was engaged and excited to make an impact across campus. She participated in an internship, held various on-campus jobs, took community-engaged learning courses, finished the HOBO Hike, and went on a study abroad trip. Ask her about anything from her undergraduate days. She always has a story to tell!
Sierra earned her bachelor's degree in Communication and Multimedia Art from Juniata in May 2021. After reflecting on her undergraduate work experience at the Alumni Office, Sierra proudly applied to work at her alma mater and accepted the position of Alumni Engagement Coordinator. In this role, she serves as office manager, receptionist, and administrative support. In addition to serving as the first point of contact for in-person and digital communications, her major responsibilities include providing event support, supporting the Alumni Council, managing data entry and tracking, coordinating updates for the alumni magazine, and managing student employees.
In her free time, you can find Sierra binge-watching true crime shows or crying over sappy books and movies. She also enjoys hanging out at Standing Stone and hiking scenic trails in the area. Her favorite pastime is spending time with her family and friends (especially with her sister, Renee Waite '24, who currently attends Juniata).