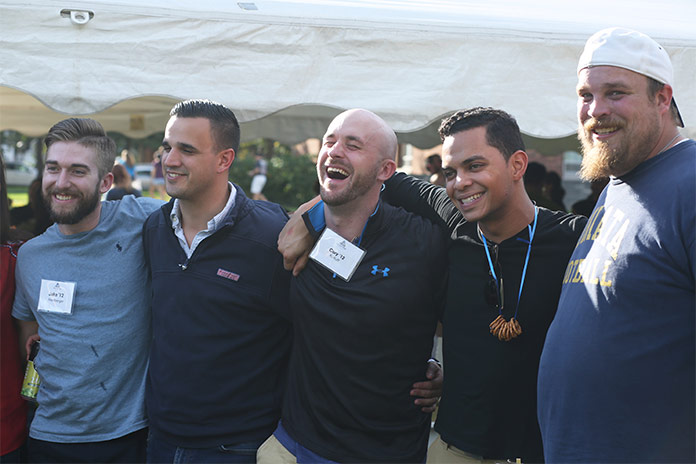 UPDATE: 09/20/21: Based on the current guidance surrounding in-person events, we have modified the reunion gatherings originally planned for Homecoming and Family Weekend. Please review the updated Schedule of Events and Additional Information as you plan your time on campus.
The Classes of 1980, 1981, 1985, 1986, 1990, 1991, 1995, and 1996, are invited to celebrate their reunions and catch up with classmates and friends at an outdoor reception to be held Saturday afternoon, Oct. 30. A Saturday afternoon outdoor reception is also planned for emeriti alumni, with special recognition of Hal Yocum '64, the recipient of the William E. Swigart Jr. '37 Alumni Humanitarian Award. We welcome back the Classes of 2000, 2001, 2005, 2006, 2010, 2011, 2015, 2016, 2020, and 2021 for a reunion social on Saturday afternoon.
Juniata College continues to closely monitor recommendations regarding COVID precautions. We will share protocols with registered guests as the event approaches. For up-to-date information, Juniata's current status, and modifications to the event schedule, visit Homecoming Information.
Reconnect with Your Classmates:
40 - Year Reunion - Classes of 1980 and 1981
Facebook Groups: Juniata College Class of 1980 and Juniata College Class of 1981
35 - Year Reunion - Classes of 1985 and 1986
Facebook Groups: Juniata College Class of 1985 and Juniata College Class of 1986
30 - Year Reunion - Classes of 1990 and 1991
Facebook Groups: Juniata College Class of 1990 and Juniata College Class of '91
25 - Year Reunion - Classes of 1995 and 1996
Facebook Groups: Juniata College Class of 1995 and Juniata College Class of 1996
20-Year Reunion - Classes of 2000 and 2001
Facebook Groups: Juniata College Class of 2000 and Juniata College Class of 2001
15-Year Reunion - Classes of 2005 and 2006
Facebook Groups: Juniata College Class of 2005 and Juniata College Class of 2006
10-Year Reunion - Classes of 2010 and 2011
Facebook Groups: Juniata College Class of 2010 and Juniata College Class of 2011
5-Year Reunion - Classes of 2015 and 2016
Facebook Groups: Juniata College Class of '15 and Juniata Class of 2016
0-Year Reunion - Classes of 2020 and 2021
Facebook Groups: Juniata College Class of 2020 and Juniata College Class of 2021