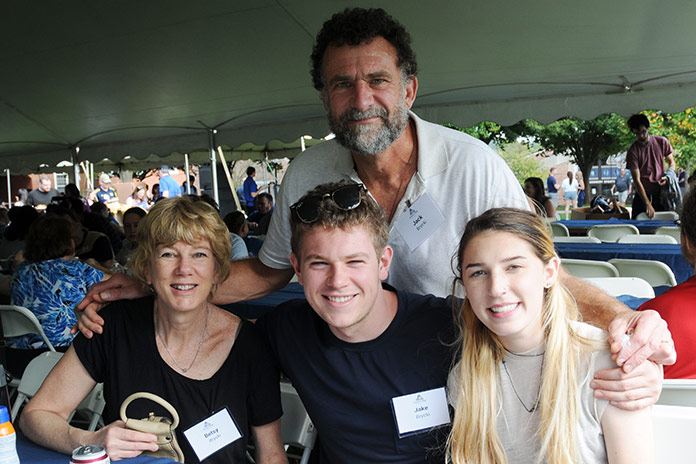 Homecoming & Family Weekend is a wonderful time to explore Juniata with the ones you love. Learn more about your student's experience, cheer on the Juniata Eagles, enjoy juggling with performer Ivan Pecel, and check out the Carnival on the Quad. See the full Schedule of Events for info on all of the events and activities that are being planned.
Frequently-Asked Questions:
What time should I plan to arrive on campus? Events begin mid-afternoon on Friday. However, it's ok if your schedule doesn't permit you to arrive until later that day or on Saturday. Registration is open on Friday and Saturday in the lobby of Ellis Hall (see schedule for times). Please check in when you arrive.
Which events are open to parents and other family members? Other than class reunion and special invite events, parents and family members are welcome to enjoy all of the weekend's activities.
Should I register my Juniata student? Yes, please register your entire party, including your Juniata student, when completing online registration. Please note in the schedule and on the registration form that there are meal options for students who have a meal plan.
If we aren't attending events that require advance registration, do we still need to register for the weekend? Yes, please register online so your nametags and other information will be ready when you arrive on campus for the weekend. It will save you time when checking in at Registration in the lobby of Ellis Hall.

Where can we grab a bite to eat? Check the Additional Information page for more information about on-campus dining options, pricing, and hours. Tickets are not required for meals in Baker Refectory (dining hall). You can pay at the door with cash, check, credit/debit cards, or student meal swipes. If you're looking for options off-campus, check out some of our favorite local restaurants.
Do I need to buy a ticket to Saturday's Picnic on the Quad for my Juniata student? There are options on the registration form for 'students on the meal plan' and 'students NOT on the meal plan'. Please make the proper selection based on your student's status. Students on the meal plan should present their Juniata ID card to Parkhurst staff upon arrival to the picnic.
Are the performances appropriate for all ages? Yes, performances are suitable for all ages, including children.
Can my children attend the Beer Garden? Your student may join you at the Beer Garden if they are 21 years of age (must show photo ID). Children age 12 or younger may enter when accompanied by a parent/guardian. We apologize for the inconvenience, but safety measures and large attendance require that anyone age 13-20 may not enter, even with an adult.
Where is the bookstore? The Perch, the newly-renovated College store, has moved to the main level of Ellis Hall. Pick up some new Juniata gear for yourself or your family. Browse exclusive Juniata College gear and items. Check out the hours on the Additional Information page.