When do dining services locations open for academic year use?
Our hours of operation are still being determined for the upcoming Fall 2020 semester. Please check back here for updates, which we will post as they become available.
What options are available on campus for students with food allergies or sensitivities?
Dining Services is committed to assisting students with food allergies and sensitivities to make choices that align with their personal needs and limitations. Students will find allergy-friendly options in Baker. A series of stations (located next to the deli and extending through the V2 vegan/vegetarian service stations on the west wall) contain gluten-free and allergy friendly selections.
The Clean Plate station offers students healthy dining options that are completely free of the top eight most common food allergens. All recipes are free of wheat, soy, milk, eggs, peanuts, tree nuts, shellfish and fish. The recipes included at the station have been carefully and thoughtfully developed by Executive Chef Lisa Palermo and Chef de Cuisine Morgan Olson and include dishes such as Cornish game hen, kebabs, and spring vegetables with quinoa penne. The Clean Plate station will be fully certified as an allergen-free zone through Kitchens with Confidence. Additionally, seventy of Juniata's Parkhurst Dining employees have been certified in AllerTrain™ allergen training, in order to better serve students' dietary needs.
Throughout Baker, in Jitters and On the Go! Café retail locations, and at catered events, allergens are indicated through labeling and signage: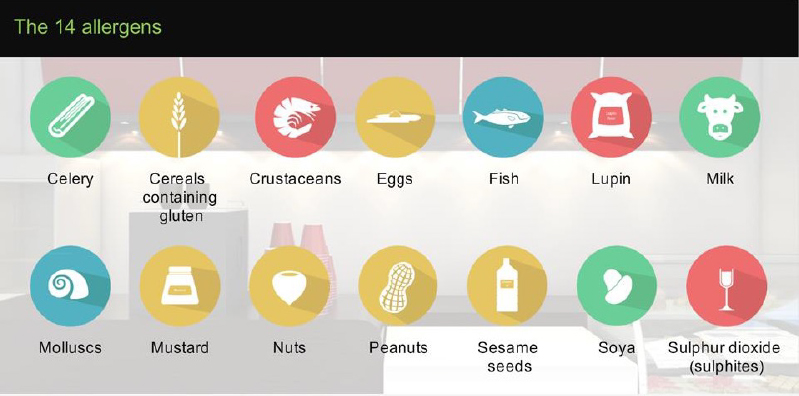 Students are able to access menus, and develop informed choices through information available on the FoodU app (available in the app store for mobile devices) and through the internet. Parkhurst's Allergy Program is complemented by our NetNutrition program that allows students, faculty and administrators to view nutritional information in a variety of devices. Information is available by desktop Internet browser, mobile site, and via a tablet. The nutritional information can be accessed by a simple menu item or by combining menu items for a meal's total nutritional value. Additionally, the program has the powerful capacity to filter one or multiple allergens across all service areas. https://netnutrition.cbord.com/nn-prod/7000#
May I use my meal plan for a guest meal?
No, but you can use your DCB Dollars to purchase a guest meal.
My schedule doesn't allow me time to stay and eat in Baker. Can I get food to go?
If your class schedule, work commitments or schedule limits your ability to dine in Baker, you can pick up a meal and take it with you. Block meals can be exchanged for retail items at Jitters and BAC during lunch hours to afford additional flexibility. Students who have a need to pick up food and take it with them will have options to do so.
I have a suggestion or feedback to share about my experience with Dining Services.
Help us serve you better. Share your feedback with us in a number of ways:
Share your feedback with any of our chefs or managers in person. We work out of offices on the first floor just outside of Baker Refectory and more often we can be found interacting with you in any of our operations. Introduce yourself to Andrew, Chef Lisa, Chef Morgan, or Brett.
Use the feedback function in the FoodU app
Email us at parkhurst@juniata.edu
On a monthly basis, Culinary Council meets to discuss dining services and provide guidance that help improve student experiences, and address opportunities to enhance operations and practices. All students may join the committee; contact Lorri Shideler at shidell@juniata.edu for more information about meeting dates and times.
Tell me more about the FoodU app and the information it provides.
Satisfy your APPetite with the FoodU dining app from Parkhurst Dining. With What's New, you'll find a fresh feed of the latest info on your favorite dining spots including events, deals, and notes from your chefs! Check out What's Cooking for daily menus and hours of operation by each and every location on campus. You study hard all day, give your brain a rest! FoodU makes it easier to think with your stomach. Download the FoodU app to your mobile device in the Apple iTunes or Android store.
How does Dining Services reflect Juniata's commitment to environmental sustainability?
Dining Services supports a number of initiatives that reflect Juniata's commitment to environmental sustainability and a reduced environmental footprint:
Efforts to reduce food waste in preparation, service and consumption are ongoing. This includes best practice around food use and kitchen practices, the choice to operate without trays and through mindful portioning, re-usable service items such as china plates and real silverware in applications as possible, and educational efforts to help diners understand and enjoy meals as well as strategies that conserve resources.
Dining services partners with local producers to support farmers that practice sustainable agriculture, and to reduce resources require for the transport of food.
Sourcing of food includes support for operations that favor organic practices and the reduction or elimination of artificial hormones and convenience pesticides and herbicides. These choices are important and valuable, and while they may incrementally increase overall food cost, they contribute substantially to the quality and health represented in the choices available to diners.
Providing re-usable to-go containers for students to purchase, and collecting those containers at all retail locations so that they can be sanitized and returned to service. Every re-usable container eliminates the momentary use of a disposable service item, and the addition of those discarded containers to our waste stream. Information about some of our production partners who represent this commitment to local, sustainable and organic agriculture can be found here: https://www.tog.coop/.