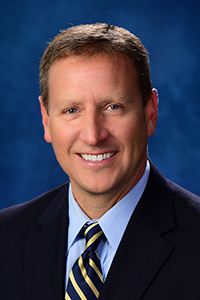 Dear Friends,
From the beginning of the pandemic, Juniatians have responded to the challenges brought about by COVID-19 by stepping up, following health and safety guidelines, and by remaining "Juniata Strong" for the security and wellbeing of our community.
As you will read in this inaugural, digital edition of the Juniata magazine, Juniatians have been tireless in their efforts to help each other and their communities throughout this unparalleled season.
The resilience of our community was evident as we adapted to a remote learning environment during the spring semester and again as students, faculty, and staff moved to the Hybrid-Flexible (HyFlex) model that has enabled both a residential and remote experience for the fall semester. The determination and unified effort displayed by our students, faculty, staff, alumni, and families is both laudable and a hallmark of what it means to be a Juniatian.
Juniata's mission to provide students with an engaging, personalized educational experience has remained resolute since our founding in 1876. This foundational purpose led the decision to welcome students back to campus for the fall semester. Our students have risen to the occasion and have been cooperative in adjusting to new policies, procedures, practices, and expectations for the common good of the entire campus community.
Throughout it all, BELIEVE: The Campaign for Juniata College has continued to make outstanding progress thanks to your generosity. Gifts from this campaign benefit every single person who sets foot on our campus and make possible the best of what we do and what we value. Your gifts make Juniata everything it is and will be in years to come.
Sincerely,
James A. Troha