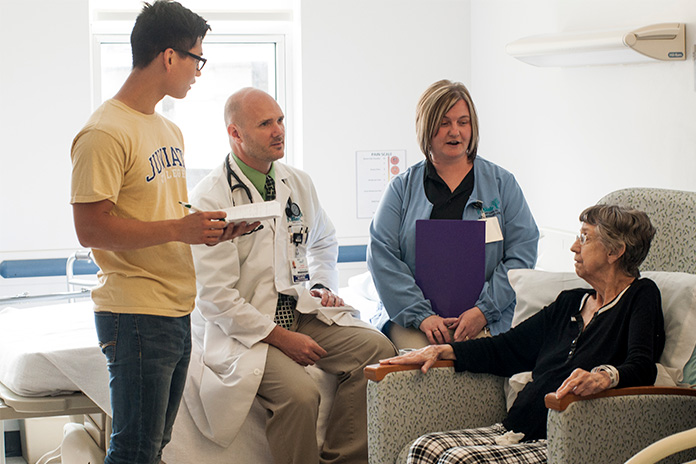 The Health Professions Institute provides opportunities for high school students to experience different areas of health care as a career discipline while participating in a high-quality, lab-based learning experience. Students will engage with the College's faculty and converse with health care professionals including physicians, nurses, health care administrators, and research scientists.
The Institute will focus on career exploration, college immersion, and a variety of learning activities. By conducting lab work, traveling to local health care facilities, and working in small groups, students will gain valuable learning and lab experience to help position them for success on their way to a career in the health sciences.
This year's courses include:
Human Anatomy, Physiology & Movement with Dr. Randy Bennett
Course description: Movement is fundamental to human behavior and allows us to dance, play sports, hike the woods, and much more. In this course, we will gain a better understanding of how animals, including humans, move. First, you will examine the basis of movement by learning about the biology of neurons, muscles and bone. Then, you will record the activity of muscles and develop a project of your own using yourselves as subjects! (rising sophomores & juniors)
Gut Check: The Human Microbiome with Dr. Regina Lamendella
Course description: Imagine if there were an organ in your body that weighed as much as your brain and affected your health, your weight, and even your behavior. There is such an organ, a microbial cloud…that is, the collection of microbes in and on your body, which scientists define as the human microbiome. You will learn how the human microbiome affects health, employ hands-on molecular biology skills to profile microbial communities, and then research the role the microbiome plays in the progression of a specific disease. (rising seniors)
Supplemental Workshop Topics (all attendees):
Suturing Workshop
Becoming a Force for Health: Public Health & Preventive Medicine
Healthcare Professionals Panel
Getting Your Message Across: Health Communications
A Day at the Institute:
| | |
| --- | --- |
| Time | Activity |
| 8:00am | Breakfast |
| 9:00am | Lab Course: Gut Check: The Human Microbiome |
| 12:00pm | Lunch |
| 1:00pm | Lab Course: Gut Check: The Human Microbiome |
| 3:30pm | Break |
| 4:30pm | Healthcare Professionals Panel |
| 5:30pm | Dinner with Panelists |
| 6:30pm | Frisbee Golf/ Gym/ Pool Time |
| 7:30pm | Final Presentation work time with Juniata student mentors |
| 9:00pm | Back to dorm |
Health Professions Institute at Juniata College
When:
Sunday - Saturday
July 28 - August 3, 2019
Who Should Attend?
Rising high school sophomores, juniors, and seniors who want to explore healthcare-related careers through participation in a variety of dynamic learning experiences.
Any questions regarding the institute should be directed to Colton Bright, Health Professions Institute Coordinator: 814-641-3603 or brightc@juniata.edu; or Alisha Boerstler, Health Professions Institute Coordinator: 814-641-3434 or boersta@juniata.edu.
Health Professions Institute at Juniata College
July 28 - August 3, 2019
includes all meals, housing, and transportation to off-campus sites
* Payment plans available. Please call 814-641-3604 for details.
$1,250
Why Attend the Health Professions Institute at Juniata?
Juniata College has specialized in preparing students for careers in the sciences for over 140 years.
With major grants received from the Howard Hughes Medical Institute, the National Science Foundation, and the National Institutes of Health, Juniata provides students with many unique opportunities to learn by doing. Juniata's health professions committee and alumni are dedicated to helping students find the best hands-on experiences. Recent locations for internships have included Altoona Family Medicine, the DNA Analysis Unit of the FBI, Geisinger Health System, Harvard, J.C. Blair Memorial Hospital within walking distance from campus, and a clinic operated by So Others May Eat in Washington, D.C., as well as large and small animal veterinary practices.
Graduation results in the health professions include Juniata College's current 90% average medical school placement rate, which has been held for more than 40 years. Acceptances to top-tier institutions such as Duke, Johns Hopkins, University of Pennsylvania, University of Washington, Harvard, and University of Pittsburgh are the norm.
Juniata College is an independent, co-educational, liberal arts college of 1,600 students located in Huntingdon, within the scenic Allegheny Mountain region of central Pennsylvania. Founded in 1876, Juniata is ranked among top-tier private liberal arts colleges nationally.
Health Professions Director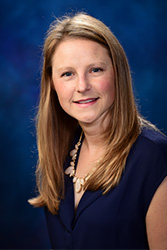 Amanda Siglin, Ph.D. is the Director of the Health Professions Program and Chair of the Health Professions Committee at Juniata. Siglin is a member of both the National and Northeast Associations of Advisors for the Health Professions and holds a leadership position with the National organization. She also serves on the Board of Directors for the South Central PA AHEC. She administers the program and serves as general advisor for all health professions students.