Science, Technology, and Engineering Institute for Middle School Students
Summer Science Splash Camp is a week-long residential summer camp funded by the II-VI Foundation and hosted by Science in Motion on the campus of Juniata College.
I really love this camp and science in general. I came last year, this year, and plan to come next year. I have made friends that have similar interests to me and that is not always easy for me to do.Iris
What will you be doing?
Spend your day performing experiments in the lab and outdoors using the same high-tech equipment college students and research scientists use. During free time enjoy water activities, soccer, swimming, and other splashing competitions. At night, play games or sports, watch movies, or talk with new friends. Between daily experiments and nightly events, work with your team to gain points for prizes.
Who is attending?
Students entering 7th, 8th, or 9th grade in 2020 can register. Students come from across Pennsylvania and beyond. (Maximum of 60 students per session.)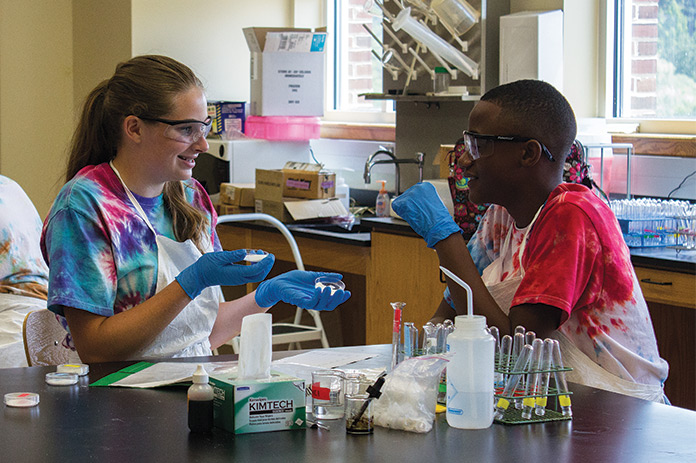 I loved my experience at this camp and am sad this was my last year. The teachers, staff, and campers were all amazing. It's wonderful to see others my age as interested in science as I am. I will definitely be telling more people about this camp. Thanks for providing me a spectacular summer camp.Taryn
What does it cost?
Underwritten by a grant from the II-VI Foundation, each session's cost is $495 per student, a $945 value supported by the II-VI Foundation. The cost includes meals, lodging, snacks, activities and camp t-shirts.
When is the Summer Science Splash Camp?
Choose from three sessions:
July 12-17, July 19-24, or July 26-31
Students should arrive Sunday afternoon by 3:00 p.m. and depart Friday afternoon around 2:00 p.m. It is necessary that all campers be present for the entire time. Campers will be engaged in team competitions; therefore, they will be required to stay for the entire week. Please be fair to campers that can stay!
Who will I work with?
Certified science teachers from local school districts instruct the labs during the day. They not only facilitate lab activities, they develop many of them prior to camp with the assistance of camp counselors, in order to provide new, exciting investigations.
Camp counselors supervise students in the late afternoons, evenings and overnight. Staff consists of handpicked Juniata students eager to share their enthusiasm for science and teamwork.
This is my second year here and I loved it! Everybody is friendly and I liked making friends who weren't even on my team. It has a very social atmosphere and I'm glad to say I've met some of my best friends here. Can't wait to come back next year!Liza
Are the dorm rooms air-conditioned?
No, but you're strongly encouraged to bring a fan.
Will there be anything good to eat?
The cafeteria serves youth-friendly food on a daily basis in the summer and can accommodate allergies and vegetarian diets. If you have particular needs, contact us for more information.
Is this an advanced science camp? Do I have to know a lot about science to attend?
Of course we don't expect you to already know everything, but we do expect you to be excited and motivated to learn!
How do I get to the Summer Science Splash Camp?
Juniata is easy to find, just off of US 22. Driving directions and train information are available at juniata.edu/directions.
Things to Bring to Camp
Proper Laboratory Attire
Long pants required for most labs
Shirts appropriate for lab
Closed-toe shoes (e.g. tennis shoes)
Other
Outside fun clothes
Swim suit
Linens (extra long twin)
Fan
| | | |
| --- | --- | --- |
| Session I: July 12-17 | Session II: July 19-24 | Session III: July 26-31 |
| | | |
** Service fee applies for all credit card payments. Payment includes $50 non-refundable fee. No Refunds will be issued for cancellations within two weeks of camp start date.

Questions? Call or e-mail Conferences and Events at: 814-641-3604, events@juniata.edu
.