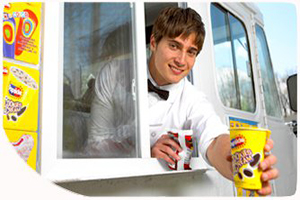 In the fall of 2003, the potential to create a business in the Huntingdon area community via JCEL was introduced to Juniata College student entrepreneur, Demetri Patitsas. More specifically, an opportunity presented itself that would enable the reintroduction of a service absent within the community since the early 1970's: an ice cream truck service, owned by Absolute Creo, LLC. Following an extensive business plan submission process and presentations, in the spring of 2005 Absolute Creo LLC made its appearance. "As both a resident of Huntingdon, PA and student of Juniata College, I sought out a business idea that would provide me with an opportunity to bring a unique service to the ever needful community of Huntingdon: an ice cream truck business.
Demetri Patitsas, owner of Absolute Creo, LLC created a sustainable, profitable, seasonal business venture, while restoring and nurturing a sense of community life within the Huntingdon area. The business sells strictly novelty ice cream products, such as Supermans, Choco Tacos, ice cream sandwiches, and push pops, along with the ice cream truck experience. By its third year, Absolute Creo, LLC had expanded to five employees, three trucks, eight push-cards and a market that includes 11 communities in three counties: Huntingdon, Centre and Bedford.
Following graduation in 2007, Demetri continued running Absolute Creo, LLC by contracting with local community people and students to run the trucks throughout the summer months.
Recently, Absolute Creo, LLC was sold to a Williamsport couple, Jeff and Michelle Stemler. The business is now known as Funky Freezer. To schedule an event or contact Funky Freezer, visit their web site www.funkyfreezer.com or call (570)-865-6446.
JCEL and the entire Juniata community wish Demetri the best of luck in all of his future endeavors, which include his most current venture startup, EXELA VENTURES, which is a social enterprise that organizes and leads educational programs and expeditions to Guatemala in order to enrich the lives of the less fortunate and their participants.