By JOSH FUNK Daily News Staff Writer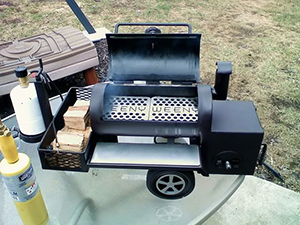 When an individual or group of individuals set a record of any type, it's a big deal.
When that record just happens to be a world record, it's even bigger.
A Huntingdon resident will soon know if he officially set a world record. His accomplishment is currently being reviewed by Guinness World Records, the organization known for its popular work records book published annually.
Brian Nevel, the owner/president of Huntingdon County Customs, used a very small, yet fully functional, mini smoker during a rib cook-off contest in Rochester, N.Y., where he placed 26th out of 62 teams.
Nevel sent an application to Guinness World Records about three weeks ago and was notified by the organization that it would take four to six weeks before he would know if his world record would meet their criteria and be accepted.
The mini smoker Nevel used is less than three feet in length (33 inches, exactly). It has a cooking space 13.5 inches wide and 6.5 inches deep, enough to fit a full rack of ribs or a couple large chicken pieces. When Nevel enters competitions with the mini smoker, he's going up against competitors who use very, very large smokers.
"It's surprisingly efficient," Nevel said of his lean, mean smoking machine.
If Guinness approves the smoker as a world record, Nevel said it would be pretty cool.
"It would be cool to have my name on a world record," Nevel said, "but (to have) the business name attached to it would be really neat."
What led him to create such a device?
The first style of smoker that Nevel created was a keg smoker, which he introduced just over a year ago, at the request of some folks who had been asking him to start building pig smokers. At that time, Nevel's business, Huntingdon County Customs, was just getting off the ground. And while his keg smokers were featured in some magazines, like Maxim and barbecue World, Nevel felt he needed something different.
"People had been seeing me around these different competitions (using the keg smoker)," Nevel said, "and it was like, 'all right, that's great. What's next?' I wanted to make it look like an actual smoker, not a piece of junk."
The mini smoker will be put to use in competition later this summer when Nevel travels to Lancaster County for New Holland's Summer Fest.
When Nevel started Huntingdon County Customs in May 2008, he began with custom made trailer hitched. With some help from the Juniata College Center for Entrepreneurial Leadership (JCEL), the types of products Nevel offers became even more varied.
"My wife and I kind of came up with the idea of doing grill grates," Nevel said.
To date, Huntingdon County Customs has done "numerous" grill grates, including one for a trucking company in York County and a radio station in Springfield, Ill. Nevel has also done metal signs, custom auto accessories and much more.
The business had brought a wide range of customers to Nevel, geographically speaking. He has had customers from California, New Mexico, Texas, Michigan, Maine and Florida.
"And even tiny Rhode Island," Nevel said, adding that he'll be shipping a smoker to Alaska when the customer who ordered it returns home from Iraq.
Working with metal was something that Nevel always wanted to do, "But I never worked with metal until I started my business."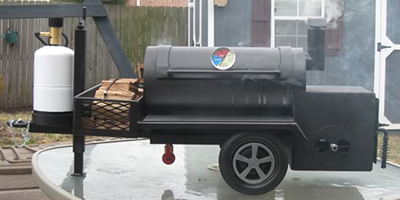 Nevel said that he eventually plans to expand the business, and have some full-time employees down the road.
He also noted that he tried to make everything "one-of-a-kind" but he said he has had a few repeat orders.
"I hate to lien myself to anyone," Nevel said, "but I'd like to be like the Orange County Choppers of barbecue cookers. Everything out there is pretty much the same. Nobody does anything real wild."