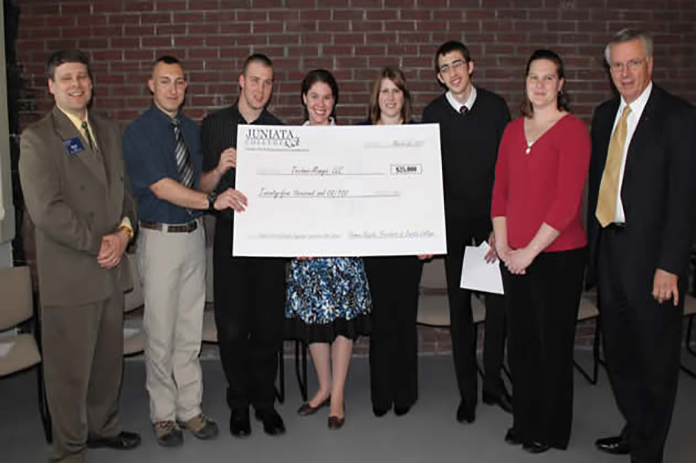 Five information technology students were recipients of a $25,000 JCEL Student Seed Capital Keystone Innovation Zone (KIZ) grant. Student entrepreneurs Kuba Szulacskowski, Aimee Rienaker, Elizabeth Donovan, Michael Cassatt and David Lamberson accepted the grant to start Techno-Mango, LLC, a software/web design/R&D firm.
JCEL Executive Director Nick Felice shared, "I am pleased to see how five students pulled together as a team to make Techno-Mango a reality". In addition, Juniata Executive Vice President and JCEL Board Chairman John Hille is thrilled to support this student based enterprise.
The company is located in Suite 210 at the Sill Business Incubator, which is part of the KIZ, a geographic area designated by the Pennsylvania Department of Community and Economic Development where special incentives assist entrepreneurs who open or operate businesses in four specific industry clusters (information technology, advanced manufacturing, green energy and life sciences).
Amy Wise, executive director of Huntingdon County Business and Industry and Keystone Innovation Zone coordinator, commented, "It's exciting to welcome Techno-Mango as a new KIZ company. The business exemplifies the partnership mission of the KIZ, combining economic development with institutions of higher education."