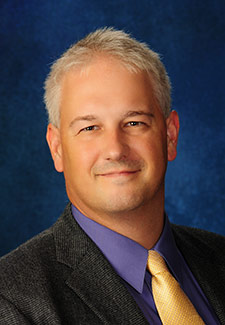 Phone: 814-641-3131
Email: welschg@juniata.edu
Office: Founders Hall first floor.
Vice President of Strategic Communication and Marketing
Responsibilities:
Oversees operations in marketing, digital and emerging media, public relations, senior communications, and brand management.
Biography:

Gabriel Welsch is vice president for Strategic Communication and Marketing at Juniata College, a position he has held since June 2017, and in which he oversees operations in marketing, branding, and communications; digital and emerging media, and public relations.

Gabe started at Juniata as assistant vice president for marketing in 2007. Prior to then, he worked as assistant to the dean for advancement and manager of publications and public relations for Penn State's College of the Liberal Arts, during which time he was also a Senior Lecturer in the Department of English. The work of Gabe's teams at Juniata has been featured in articles in The Chronicle of Philanthropy, Advancing Philanthropy, The Chronicle of Higher Education, and University Business. At Juniata, Gabe serves on the Senior Leadership Team and the Bias Response Team. He co-chaired Juniata's decennial Middle States Self-Study Steering Committee, co-chaired the Presidential Transition and Inauguration teams for Juniata's twelfth President, Dr. James A. Troha, and served as interim vice president of enrollment from July 2013 to February 2014.
Gabe is active in his professional community and local community. He is president of the board of directors of CUPRAP: College and University Public Relations and Associated Professionals, and is a regular presenter at conferences on topics related to fundraising and marketing. Gabe also is a member of the board of directors of the Huntingdon Rotary Club. His wife, Jill, and he have volunteered their time in support of Huntingdon County Library; Huntingdon House, a domestic violence prevention program; J.C. Blair Memorial Hospital; Huntingdon County Arts Council; and Meals-on-Wheels.
A 1993 graduate of the Pennsylvania State University with a Bachelor's Degree in English, Gabe completed his Masters of Fine Arts from the same institution in 1998. He is the author of four books of poems, as well as scores of short stories, book reviews, and essays appearing in national literary periodicals. He teaches writing occasionally for the Writer's Center at the Chautauqua Institution.