Liberal Arts Gone International?
(Posted February 19, 2013)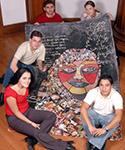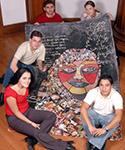 Just a few weeks ago the president of Swarthmore College, Rebecca Chopp, went on a tour of Asia, visiting cities such as Tokyo, Seoul, Taipei, and Shanghai, in order to reconnect with alumni and to form networks with international academic institutions. Juniata's Tom Kepple has also visited China this summer, as well as a variety of other countries, in an attempt to establish connections and recruit international students. Another focus of such tours has been to promote the spread of the liberal arts education system in foreign countries. Thus far, the liberal arts education system has been, for the most part, limited to the United States, and the advantages and disadvantages of a liberal arts education in comparison to other education systems have been debated nationally and internationally. Let's see what Juniata's international students think.

Wang Weihua '15, Chengdu, China

I think a liberal arts education helps students become successful, and I was really excited about coming to Juniata because I could take so many different courses. But now I think it can be really rough sometimes, because I am not as strong in some academic areas as I am in others. However, I think this helps students develop a balance, since you have to study a variety of academic disciplines. If a well-known American liberal arts college were to establish a branch in China, I think it would be successful, as long as they had good connections with the Chinese government and education system.

Mitsuki Koh '16, Tokyo, Japan

I chose Juniata because I was looking for a liberal arts college, and I wanted a school with a small population. I like the smaller classes and the closer attention I get from the professors. Most of the universities in Japan are larger, and the classes are more like lectures and aren't discussion-based. I think it would be great if the liberal arts education prospered in Japan, because most Japanese students have to decide what they want to do when they are sixteen or seventeen, but it is very hard for us to decide at that age.

Lisa Raabe, Marburg, Germany

I actually really like the liberal arts system, because there are so many different types of classes I can take here, and you can change your POE if you don't like the classes you've taken. German universities tend to be much narrower in what you can study. However, I'm not sure a liberal arts school would survive in Germany. The tuition for the public universities in Germany are much lower than it would be for a private liberal arts university, but I think German students would really appreciate the academic benefits.

Hector Nunez Contreras, Guanajuato, Mexico

In Mexican universities, there's a lot less guidance as to what you can and can't do. I really like the level of tolerance that exists here at Juniata. To be honest, at first I had no idea what liberal arts meant. At the University of Guanajuato, I can only pick two classes for myself, and half the time those classes will probably not fit inside of the set parameter that the university has. So I really like the liberal arts, because it gives you freedom to have a broader spectrum as far as different knowledge that could be useful for you in your career and in your life. I think a liberal arts school would definitely do well in Mexico.

Lola Lesi '14, Lagos, Nigeria

The universities in Nigeria are definitely a lot different from the universities here. You apply to a department when you apply to college, and you stay there for the whole four years. At Juniata I like how you can take other classes that aren't necessarily in your major and they still count for something, and sometimes it's a requirement. I'm able to take French and Digital Photography, which is a nice change from my usual math classes. I think the liberal arts system would definitely be successful in Nigeria, because I know a lot of people who want to double major or take other classes, but they're not able to.

-Melissa Famularo '13, Juniata Online Journalist

Our readers respond...
Click here to provide a response of your own.
Contact John Wall at wallj@juniata.edu or (814) 641-3132 for more information.